Planning a toddler's birthday party is so much fun! It's equal parts for the parents and the kiddo. My son just turned two and we decided to go with a farm themed birthday party. He loves animals and I had a lot of ideas around word play around going 'two' the farm. At one point there may have been a petting zoo mentioned... but that was vetoed unfortunately. Ha!
When you're planning a birthday party the big things to think about are decor, food and activities. I prefer a less formal party when it's for a toddler, just because the lower your expectations are the greater the chance is they'll be exceeded. 🙂 I didn't want a lot of pressure on him so the only 'organized' thing we did was singing and opening presents. One tip around presents- only have him open a few in front of everyone and have scissors ready to actually open the toy if it's packaged. My son was super excited but wanted to completely open every toy which, I actually really understand how confusing that would be for a kiddo!
Setting Up the Party
When thinking about a barnyard birthday bash I really wanted to have it outside. We ended up with a great day for it and only a little wet grass because it had been raining all week. This gave the kids the ability to run around. To plan my set up I drew a little 'map' of my backyard so I could see where I wanted to put tables, chairs, etc. This helped me to realize the perfect spot to put some yard games and how to keep the cake table far enough away from those yard games. We set up corn hole and some kids toys before everyone got there so that there was plenty to do as soon as kiddos arrived and there wasn't really a formal schedule.
Decor
By far my favorite decoration was the balloon barn mosaic. I had so much fun working on it and seeing it come together! It was also a really affordable project. A bit more time intensive but easy and cheap to do on your own for a big impact. We also had a balloon arch made by @PulleyBalloonCo and it was perfect! She had delivered it a few days before the party because the weather was iffy but if at all possible I wanted to have the party outside. If you're wanting to make your own she helped us create this tutorial. That gave us a bit of flexibility and the day of I was able to hook it onto the deck without problem. Sharing inspiration photos and having discussions about the goals of the party with your vendors helps everything go super smoothly!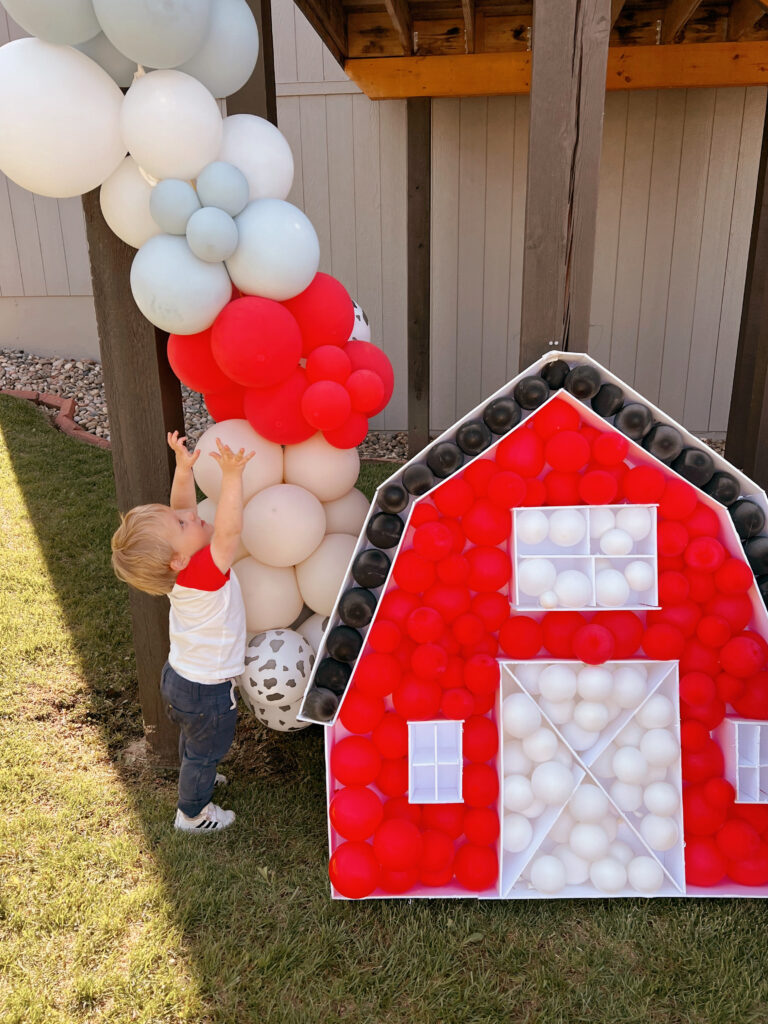 My other favorite piece of decor was the table runner that we turned into a fence sign. I found this large personalized sign on Etsy and we used thumb tacks to stick it onto our back fence. Then we set out a cup of crayons so that kiddos could color on it during the party! One tip if you're going to do this- put the cup in the shade. We had a few melted crayons so we had to shift that cup to a shaded area early on.
The Desserts
I really like using food as decor. I think it makes things a lot easier and clean up easier because there's less to clean up! 🙂 Part of planning the party for late afternoon was to avoid that nap time window, and, well, because then we didn't have to serve a full meal. For our food we kept it pretty light and focused on desserts and snacks.
I made little tags with farm tie-ins for the food table, the 'veggie garden' included veggies and hummus in premade cups. We also had popcorn and chex mix bags for 'chicken feed'. For a kid's party I really think the cheesier it is the better! I made barn themed royal icing cookies using my cookie and icing recipes, and also make farm animal cake pops. Everything was loosely tied into the farm them.
The Cake
For the cake, I ordered a cake from @Julias_Messy_Kitchen. I found her on Instagram! My tip for searching for vendors on Instagram is to use hashtags to search and then check out their account to see what other types of styles they've done to see if it fits your vision for your event. Then reach out either via Instagram or email depending on their preference to check availability, pricing, etc. I knew I wanted to have little barnyard animals on the cake, we ended up going with these clay ones from Etsy! They were a lot easier to work with than fondant and added so much character to the cake. I just discovered Bento cakes too, they would be perfect for a party like this when everyone is outside or as a take-home favor.
Favors
For party favors I picked up some bubbles from Target and made wrappers for them! It was so simple but fun and there were bubbles flying everywhere. Plus, a lot of times favors get left behind and it's never bad to have a stash of bubbles to pull out during the summer.
Looking for more celebration inspiration?
Thanks for letting me share! If you have any questions let me know if the comments!
xoxo, Claire