The smells and tastes of summer are absolutely not complete without roasted marshmallows. But... what if you could duplicate that taste in 3 minutes... inside.. and in your air fryer? Sign me up for air fryer s'mores! No more rained out camping trips or playing camping without the best s'mores! This is the perfect treat for a summer birthday party or a camping themed birthday party. If you're looking for a specific color or for a fun twist you can make s'mores with peeps too.
In the past when we've done an 'indoor campout' we always just made the s'mores in the microwave. Which, is still an option. But, making them in my air fryer has a lot of benefits and the biggest one is that you get a toasted outer layer of marshmallow that duplicates the bonfire experience.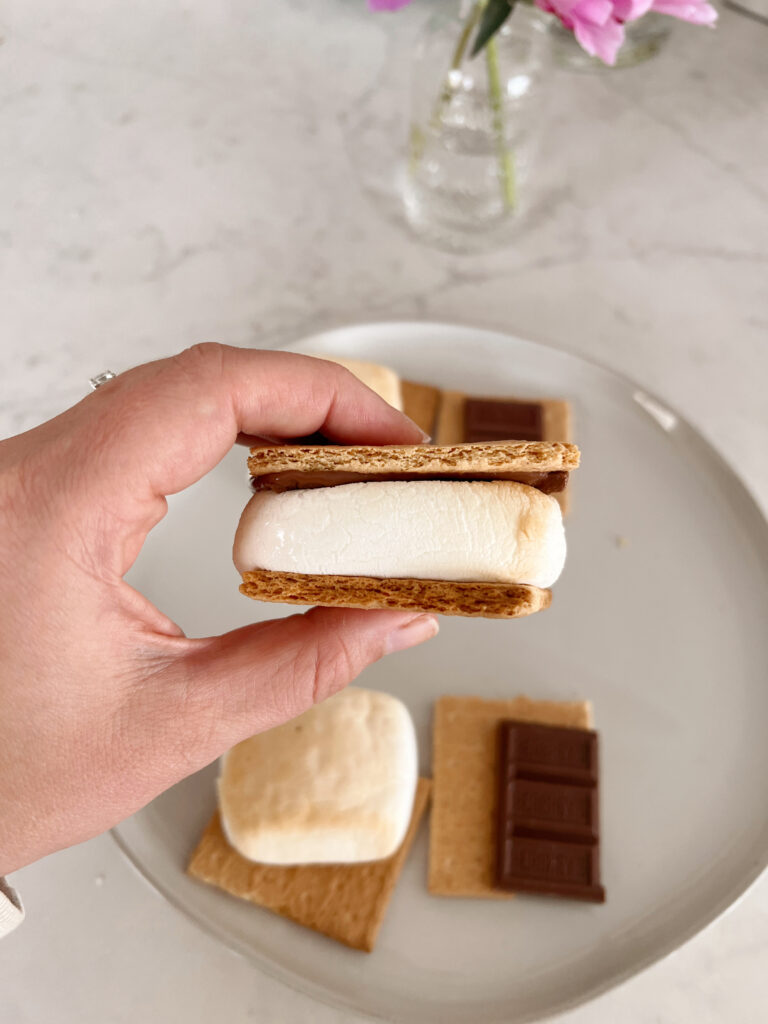 Tips
If you're having trouble keeping your graham cracker and marshmallow from flying around the air fryer put a sheet of aluminum foil over it. It'll help it to stay grounded.
You can also use an air fryer basket (like a coffee filter for the air fryer) or foil or parchment paper under the s'more to keep the marshmallow from spilling over and making a mess.
After the marshmallow had been in the air fryer for 2 minutes I added the other half with the chocolate so it was slightly melted when I combined the pieces.
Can you store s'mores?
S'mores don't keep well, it's best to enjoy these treats right away!
What kind of chocolate is best for s'mores?
Whatever is your favorite! The classic Hershey's bar is a go to around here, but Reese's, Heath, and Crunch bars are all good options.
Can I put foil in the air fryer?
I have put foil in my air fryer to help keep it clean/the mess to a minimum. It also can help hold food down.
Can I make s'mores in the microwave?
Yes! This is how I used to make them indoors. But the air fryer makes the marshmallow have that cripsy edge so it feels more like a bonfire experience. You can make them in the oven too if needed.
Variation Suggestions
Cinnamon graham crackers with marshmallows
Reeses cup instead of milk chocolate (or try it on a rice cake!)
Heath bar, butterfinger or a crunch bar as your chocolate piece
Try making a smores dip in the oven!
📖 Recipe
Air Fryer S'mores (Indoor S'mores!)
Making s'mores indoors can have the same crispy marshmallows as those made around a camp fire when you use the air fryer instead of your microwave!
Equipment
1 air fryer

basket or countertop is fine.

1 fork

to remove marshmallow from air fryer.
Ingredients
4

single

graham crackers

broken into two pieces. You can make as many as you want, you'll need one graham cracker per s'more broken in half.

4

single

marshmallows

I recommend the regular or s'mores size.

4

pieces

of chocolate

or 3 little pieces from a hershey's bar. Can also use Hershey's miniature chocolate bars.
Instructions
Preheat your air fryer to 390°.

Once ready, break your graham cracker in half and place the marshmallow on one side and the chocolate bar on the other piece.

Add the graham cracker with the marshmallow to the air fryer. Air fry for 3 minutes. Optional- use foil to cover the marshmallow so it doesn't fly around. I didn't have this happen with my marshmallow but have in the past with the rice cakes version.

After 2 minutes, open the air fryer and add the graham cracker with the chocolate so it becomes slightly melted.

Use a fork or spoon to remove the s'more from the air fryer after it has cooled. Be careful, it will be hot.

Place the two sides of the graham cracker together and enjoy!
Notes
Best served immediately and I recommend having some wet paper towels nearby for messy hands. 
To help keep the air fryer clean you can use a liner or foil.