This is going to become a regular treat around here. Basically, it's a homemade version of a reese's peanut butter cup, but, on a rice cake. Which makes it more of a filling snack with a little touch of sweetness. It has just the right amount of crunch and crisp to make it a treat, and it can be made in 10-15 minutes and ready to go.
The most important part of this quick recipe, in my opinion, is remembering to add a pinch sea salt to the chocolate at the end. It just adds a bit of flavor you don't get otherwise!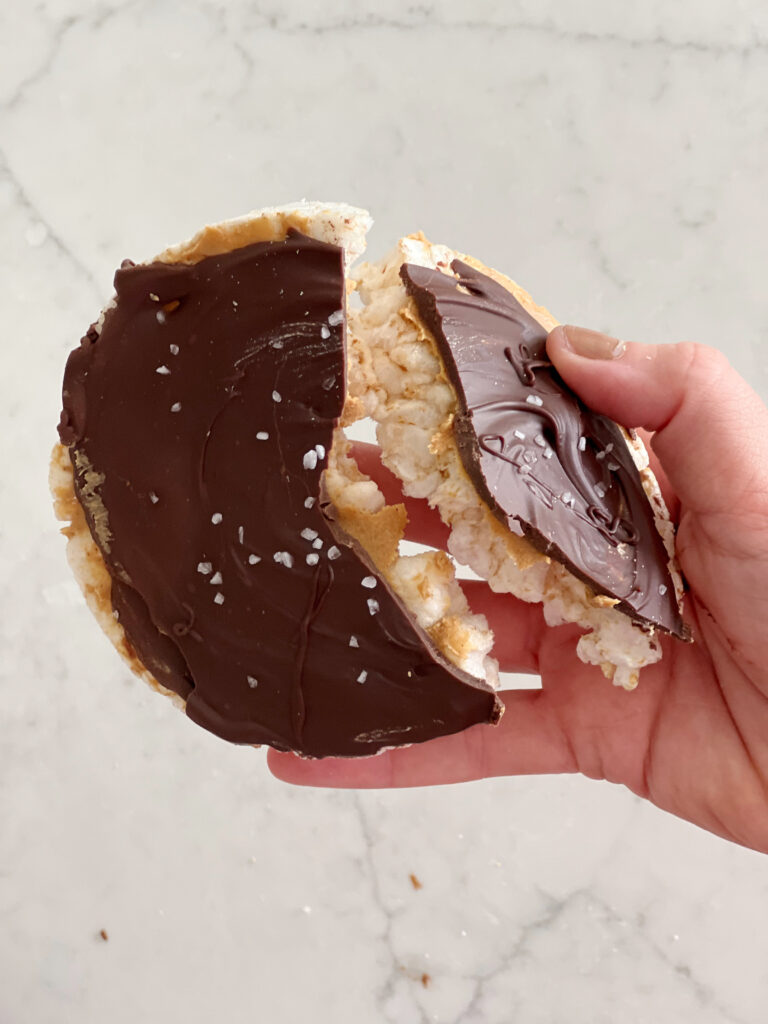 How to Make Your Rice Cups
To make your rice cups, you start with a plain rice cake. You can try salted or unsalted, I used unsalted for these since I knew I'd be adding some sea salt to the chocolate. Next, spread a layer of peanut butter over the rice cake. If you have any allergies you can absolutely use an alternative butter! Sunflower, almond or even chickpea butter would be good options.
The fun thing about making peanut butter rice cakes is that it's so customizable! You could try all kinds of variations and ingredients. If you don't want to use milk chocolate you can try dark chocolate. This is a fun treat for after school, bonus if you let the kiddos help!
Variation Ideas to Try
almond butter and dark chocolate
banana and chocolate chips
Adding caramel sauce to the chocolate mixture
FAQ
How do you store the rice cakes?
If you make more than one at a time you can store in the refrigerator in a covered container. Melted chocolate will stay good for several months. You'll want to eat the rice cakes within a few days though.
What if my chocolate isn't melting and is clumpy?
Add a bit of coconut or vegetable oil to the chocolate to help give it a smoother consistency.
Do you have to freeze the rice cakes?
You do not have to freeze the rice cakes after making them, however it does help to have the chocolate in a solid state to make it less messy of a treat.
Tips
If your chocolate isn't melting completely mix in a teaspoon or so of coconut oil. Melt in 20-30 second increments.
I used coarse sea salt to taste, it's cheaper than the flakes but has more of a taste than regular salt.
Smooth peanut butter is a bit easier to spread, but if you prefer chunky or even a butter variation you can still make these.
📖 Recipe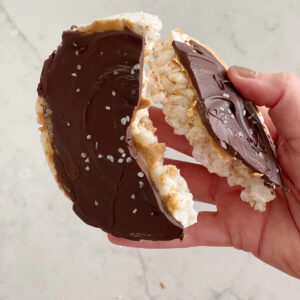 Rice Cake with Peanut Butter and Chocolate Cup
This easy recipe takes 10-15 minutes and is just like a giant Reese's cup!
Ingredients
1

single

rice cake

you can make multiple at a time.

¼

cup

chocolate chips

I used semi-sweet, you can substitute with your favorite variety.

1

tablespoon

peanut butter

or butter of choice. Add or subtract to amount per personal preference.

1

pinch

sea salt

to taste
Instructions
Spread your peanut butter onto your rice cake.

Melt your chocolate chips. I used ¼ cup of semi-sweet chocolate chips.

Take a spoonful of melted chocolate and spread it over your rice cake.

Sprinkle sea salt over the rice cake.

Place rice cake(s) in freezer and freeze for 10-15 minutes, until chocolate has solidified.

Store in refrigerator if not eating immediately.
Notes
Variation ideas: almond butter instead of peanut butter, dark chocolate instead of semi-sweet. 
Serve with a side of fruit for a great afternoon snack!