There are so many fun themes for kiddo birthdays, and this Young, Wild and Three birthday party is a fun way to celebrate your child's big milestone! Jungle animals and a safari theme is perfect for any animal loving kiddo and you can make it as wild as you want. For this party we focused on a few bigger focal points and had fun pulling in treats and decorations.
With a few DIY's (check out the foam board arch tutorial) and basic upgrades to treats you can make a party feel more custom to the look you're going for and make it a fun party for everyone there. We went with a green/safari look and feel, but I've seen some fun Lisa Frank inspired takes on this theme too!
More Birthday Party Ideas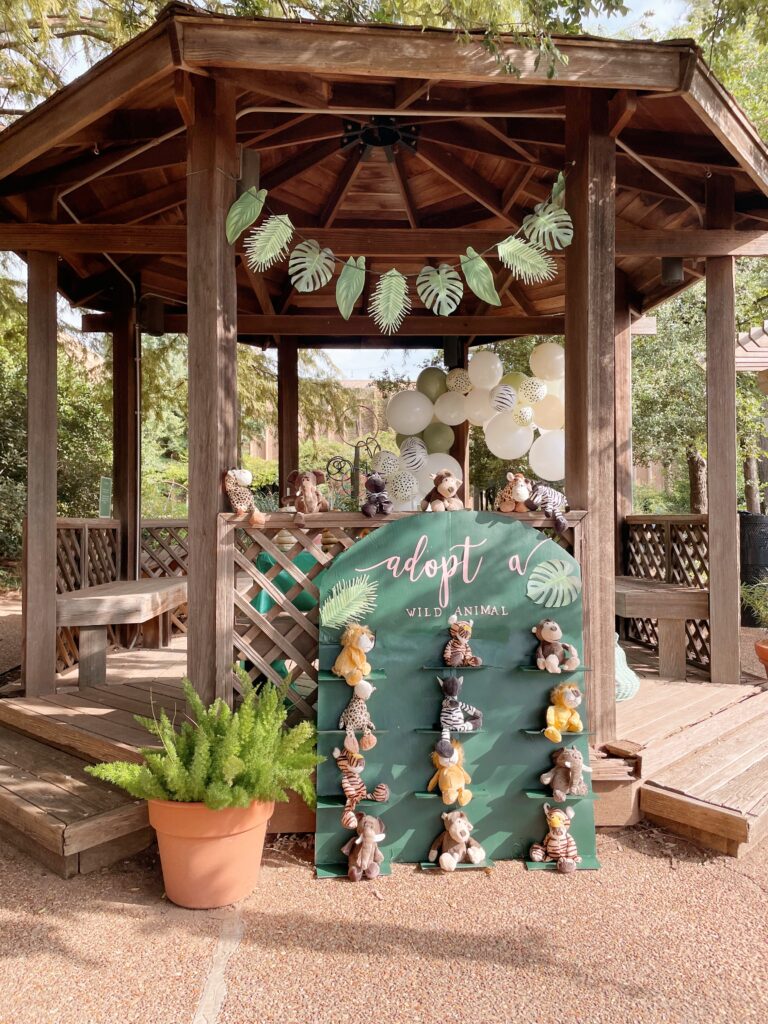 Food
We love using food as decor! The dessert table is always my favorite, but it was really fun to create a savory bagel bar. You need some veggies to balance out the cupcakes, right? We used these donut stands and added fruits, veggies and cheeses along with spreads so that parents and kiddos could both make their own bagel.
The desserts were zebra cakes, animal crackers and cupcakes and a fun and festive cake from OKC cakes that we added decorative animals to.Here are the plates we picked along with the napkins and utensils! The kiddo cups doubled as extra favors too and were so cute!
Cake
This cake was so fun! We ordered a basic, semi-naked cake from OKC sweets and added these decorative toppers to tie it in to the theme/colors of the party a bit more.
Decorations
The balloon arch is from Lushra- I love their kits! Their 'In the Wild' kit was perfect ofr our young, wild and three birthday party. They're super easy to make and the color combos are always great. Use code 'COZY10' for 10% off your order. Trust me, you can do it! If you want to learn to make a balloon arch like a pro, check out this tutorial. The Lushra kit comes with fishing wire instead of using just the long skinny balloons, but you can make your garland either way.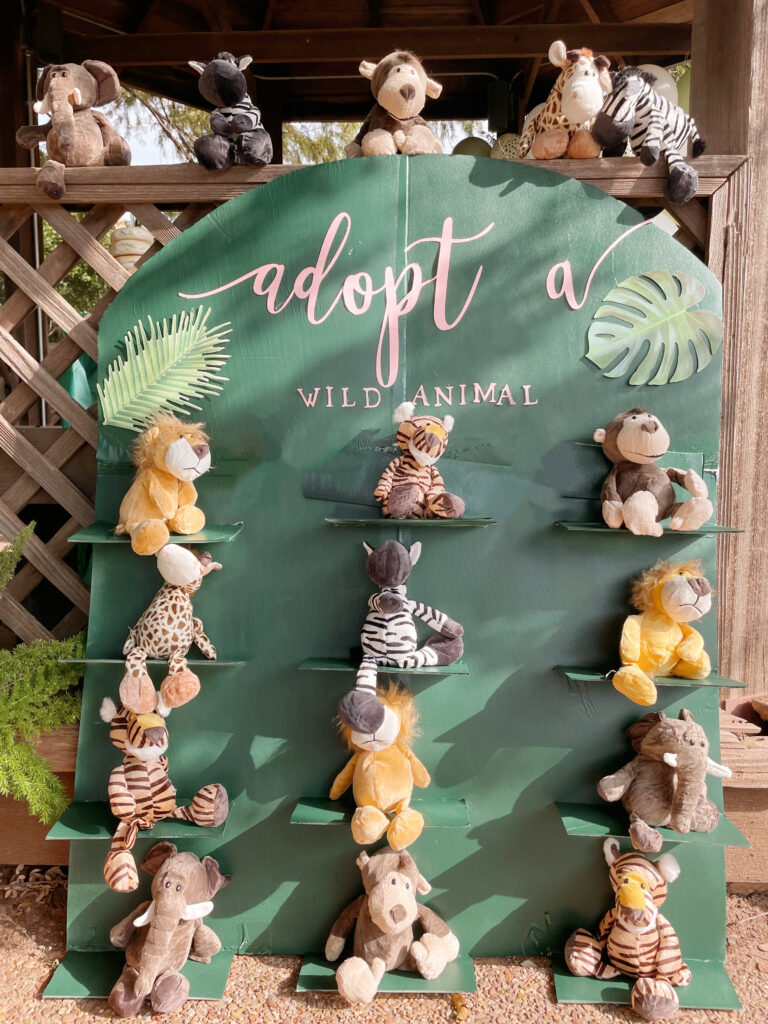 One of the biggest decor pieces doubled as our favor stand. I've seen wooden arches, but for something like this I was looking for a cheaper and well, more disposable version. So I made my own with foam board! I've used foam board for all kinds of balloon mosaics, but this was the first 'structure' I made with it. It was super popular with the kiddos, I will caution however that this is not a sturdy structure. Be super aware that it is not meant to be as stable as a plywood arch would be. If you want something more durable/long-lasting, check out the backdrop panels Mel made for her wedding!
These are the stuffies we used as favors and it was so fun to let kiddos pick out their own stuffed animal to adopt and take home! The party hats were a big hit too!
Tips for a Young Wild and Three Birthday Party
Keep it as simple as possible! Focus on 1-2 bigger items, for us that was the 'adopt the animal' favors and the balloon arch.
Borrow what you can. Cake stands, tablecloths..any thing you can borrow will keep costs down.
Make your food a part of the decor. Pull the theme and colors into your food and dessert choices and it'll help tie the look and feel of the space together.
Let us know if you have any questions in the comments, hope this helps in your party planning!