Happy Weekend, everyone!! Today I'm enjoying a nice cloudy day and keeping myself busy while my husband watches football all day. This is officially the time of the year when I do not get access to our tv remote. haha. However! It's the perfect opportunity to share this fun DIY project from my friend's little girl's 5th birthday. We created this easy fringe backdrop for her unicorn themed party. It is such an easy project, and adds that fun bit of texture to any party space! Read along to see how we created it!
Fringe Backdrop Supplies
Steps
Take the tablecloths and cut them lengthwise into strips, about 1.5-2 inches wide. We used approximately 6 tablecloths for this backdrop. It was 25 feet wide. Helpful hint: fold the tablecloths in half before cutting! The strips will need to be folded in half to hang on the fringe backdrop anyway!
Take the strips of tablecloth and start tying them onto the garden fencing. We tied them in "cow hitch" knots, basically looping them at the center fold of each strip and pulling the ends through. Tip: You can spray paint the garden fencing to match the colors of the tablecloths! We did not do this but it will help blend the colors more if that is a concern!
Alternate every 3-5 squares, and fill in as needed! It is not necessary to tie a strip onto each square on the grid. The strips will start to cover the grid as they hang down and it will start to look really full! Continue this pattern until the entire garden fence grid is covered!
Final Touches
We took a few shimmery white disposable tablecloths and scattered them through the grid, just to give it more dimension. We also added some cute sparkly star garlands and silver streamers! Feel free to add color, fun garlands or even cloth strips for texture!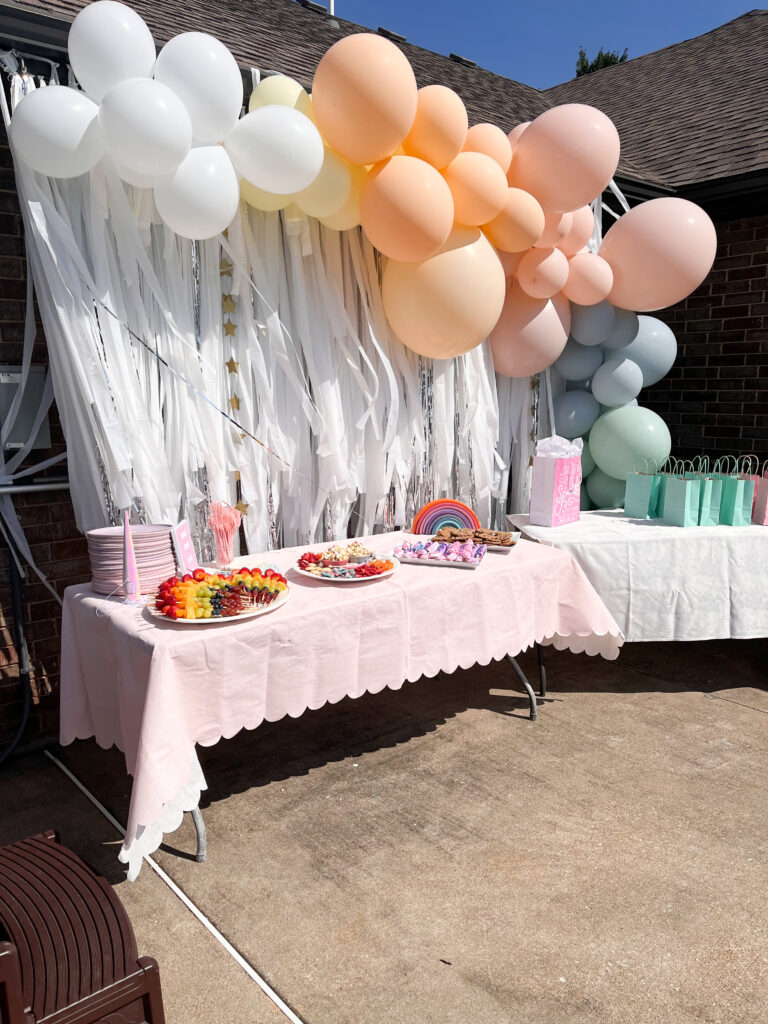 Hanging The Fringe Backdrop
This backdrop is very lightweight, thankfully! We used string and tied those to hooks that were in the fascia board of the house already. However, if you are hanging this inside or in a place where you cannot make permanent holes in the wall, I suggest getting some command hooks and hanging the fringe backdrop from there! Since its only made up of lightweight plastic and tablecloths, the entire thing is very light!
I hope you enjoyed learning how to make this easy fringe backdrop! We paired it with an adorable balloon arch for the perfect unicorn themed birthday party!! Make sure to check out our Birthdays page for more fun birthday party ideas!!
xoxo,
Melanie