Considering my living room is filled with hotwheel cars, it was easy to pick our son's race car themed third birthday. This was the first party he had several friends come to, so it was extra special. I leaned more into the vintage car theme and styling, and we had so much fun! I've tried to include all the relevant links below but if you're looking for something let me know in the comments or send us a DM!
I started by picking out our invitation and using that to build the colors around. There were a lot of homemade pieces but I also worked with the amazing vendors Pulley Balloon Co and McClain's bakery!
More Birthday Party Ideas
Decorating for a car-themed birthday party
I always say use food as decor and we definitely did that again for this party. Each treat tied into the car themed birthday party. Then I started to think about balloons, table settings and games! I had so much fun browsing for ideas too.
Kinsie from Pulley Balloon Co. made the perfect arch. My son's favorite color is blue (P.S here's his outfit link) so we did color blocked blue balloons and added some checkered ones for accents. The balloon mosaic was filled with white and black balloons to look like a checkered flag too!
Two of my favorite parts were the signs as people walked into our backyard. We had a 'Speed Limit 3' sign pinned to the gate and then we used a paper table runner as a coloring board pinned to the fence too for kiddos to draw on! We did this last year at my son's second birthday party too and it's always a highlight and fun to look at after the party. The runner shipped directly but everything else I printed at home or at Staples.
I loved the kiddo table! Instead of buying paper plates I used the same blue plastic plates we used at Melanie's baby shower. I love how modern they look and you can't beat the $.50 per plate price! The yellow tablecloths were a nice background for the blue plates and tied into the trophy cups. I picked out these utensils in pearl, but I think being next to the plate made them look more blue. The checkered napkins are from Elli and Piper and the car napkins are Meri Meri, found at Pink Antlers.
Party Food
We had a late afternoon/evening party so I wanted to share enough food options so that if people wanted to count it as their dinner they could. The little signs from Etsy were so cute and matched our invitations.
I love making food a part of the decor. We had red, yellow and green melon balls that looked like a stoplight for fruit, sandwiches from a bakery nearby, and veggies in a cup with little hummus servings for the fresh food.
These favor/popcorn boxes made the perfect addition and could hold a thing of chips and goldfish. We kept all the 'savory' items on one table and had the sweets on the other table with the cake and cookies.
For drinks we had blue sports drinks, mini bottles of water and lemonade. The glasses were from Target and 50 cents each just like the blue plates we used! Having a collection of reusebale dishware comes in handy.
Car-Themed Dessert
The cake from a local bakery, McClains and they did such a good job! I shared a few inspiration photos from Pinterest and they combined them to personalize it for our party. My favorite part was the balloons coming off the top of the cake. This cake stand looked perfect too!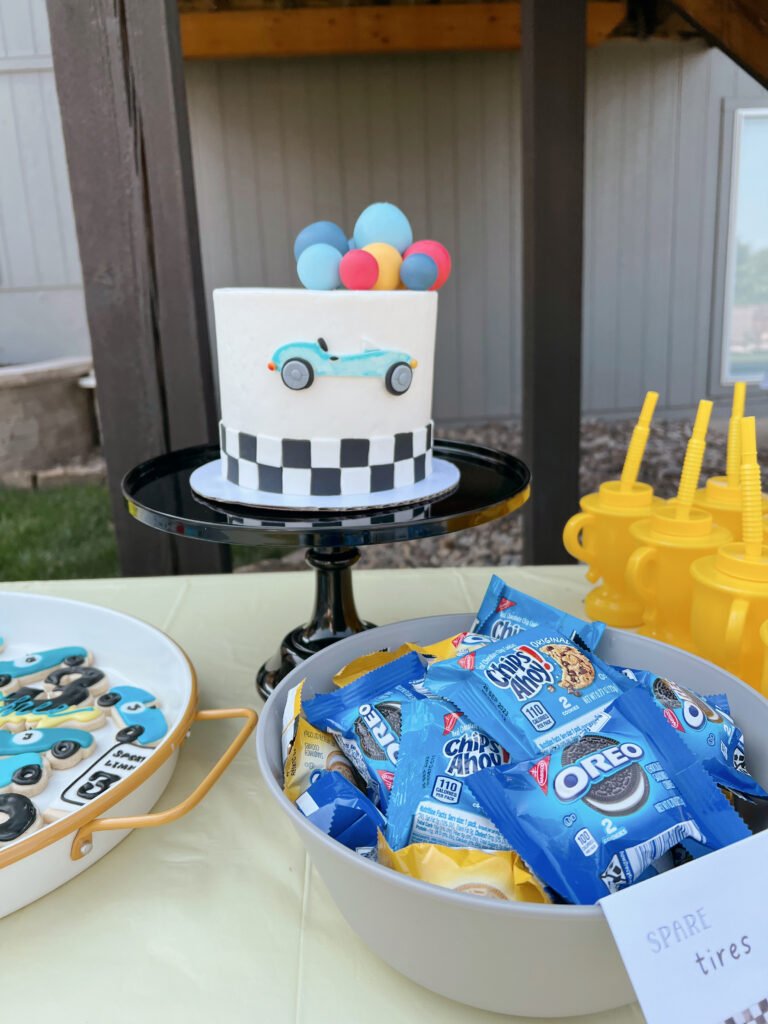 I made car-themed sugar cookies- you can get the full tutorial here, along with my sugar cookie and royal icing recipes too. A lot of car-themed birthday parties have donuts as the 'spare tires', but since our party was later in the day I went with a box of individually wrapped oreos and chip ahoy's as our last dessert.
Games and Entertainment
The weather was perfect for our party so we were able to be outside. We set out a lot of our son's favorite yard toys to help entertain kiddos. Keeping to our race car birthday theme, we planned a few stations with activities.
I got this ball pit that I love! I was planning to DIY a ballpit, but after pricing it out it was actually quite a bit cheaper to purchase one. Sign up for their emails and you can get 15% off too. Bonus that we can use it as a kiddie pool this summer! The inflated tires next to it made it feel like you were a part of the 'pit crew'. 🙂
I made a race track DIY that kiddos could pick a car to have race down the ramp! It was so fun to make and see the kiddos playing with it! You can see the full tutorial here, but the highlight was these little vintage looking racer cars. The play tape really pulled it all together too! This was a very entry level DIY. I used this car garland cut in half to string across two dowel rods for the finish line.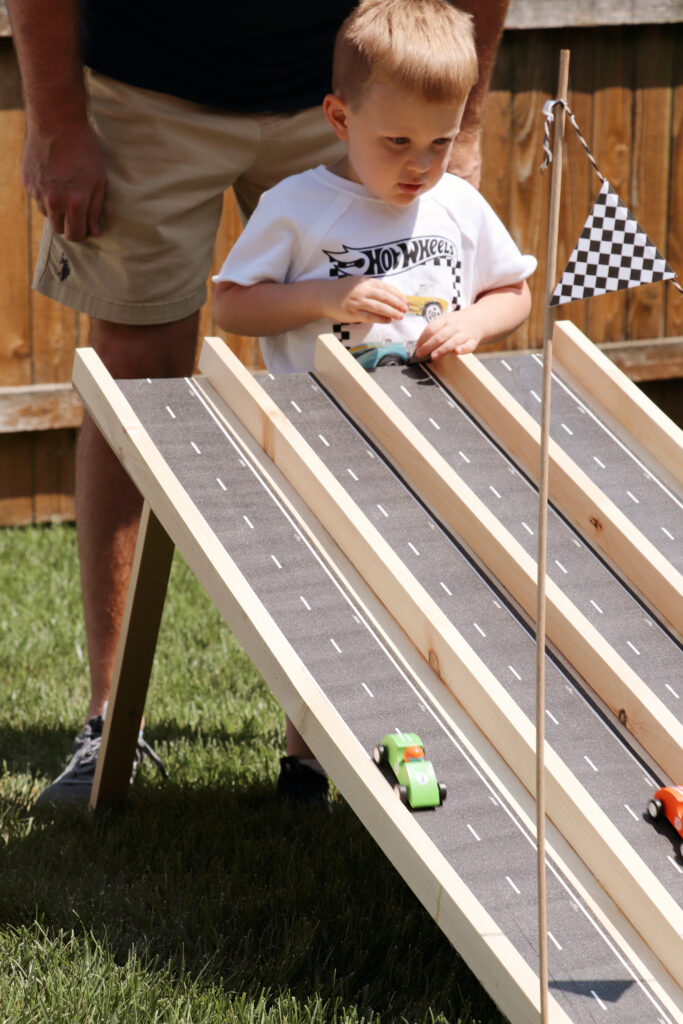 Car-Themed Favors
For favors, we sent each kiddo home with their trophy plastic cup and then we made little 'roads' with foam board that we attached a pull-back car too. To make the car favor, I cut strips of black foam board and used 2 inch play tape to create a 'road'. Then we (aka my mom who was helping with set up and prep) tied the cars to the foam board road with ribbon and yarn. I just grabbed a pack of cars on amazon but you could get hotwheels too.
This might have been my favorite party I've ever thrown. There's something so fun about seeing a group of kiddos just running around and enjoying time together! If you have any questions at all please let me know in the comments!