It was such a special day when we got to celebrate Melanie's baby! We picked Bonjour Bebe as our theme and it was so fun tying in all kinds of Parisian elements into a fun brunch. Melanie has lots of ties to France and what better way to celebrate her sweet babe!
Jesika from Sirb Homes and I planned this shower together, and we had an amazing crew of helpers in San Diego. Planning a shower from a different state was tricky, but it came together beautifully and we're so grateful for all the help we had!
More Shower Inspiration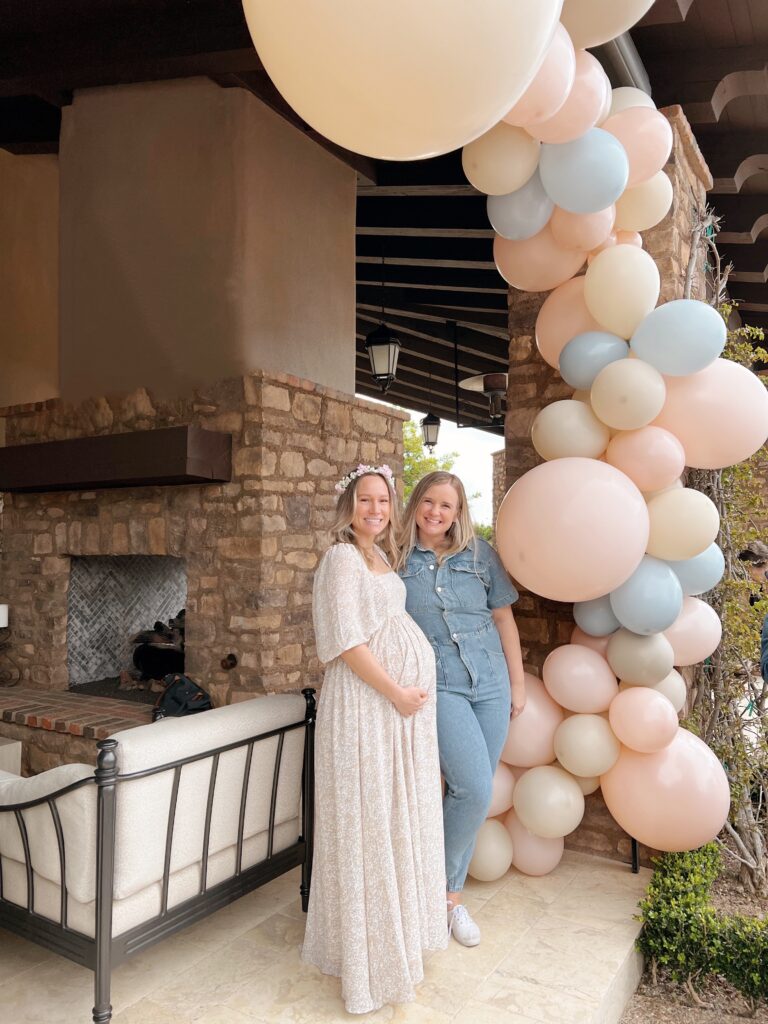 Decor
We hosted the shower at a gorgeous family friend's home and it was the perfect venue. Jesika designed the color palette based on the invitations we picked from and we planned the event using that as our guide. We wanted to tie in lots of neutral tones and florals. The welcome sign we ordered in a 12x18 size and taped to the easel.
Balloon Arch
Our balloon arch was from our friends at Lushra, ('COZY10' for 10% off!) and it was beyond perfect! We used their 'True Nude' deluxe kit as a base and added several 'Fog' balloons into it. Fog was the perfect soft blue/gray we were looking for.
Table Settings
For the tables, these plates from Target were such a great find! At 50 cents each it's pretty unbeatable and the best part is you can reuse them and they're dishwasher safe. Already planning Miles' next birthday party with them! We used fancier disposable silverware and borrowed linen napkins. I packed my favorite gold tapers as well as neutral tapers and we borrowed vases. A kraft paper runner and our games sitting on the plates tied the look together.
Arch Backdrops
The arches may look familiar, they're the same ones Melanie made for her wedding! Her sweet sister-in-law painted them to match the Bonjour Bebe shower colors. That DIY has been one of our most popular and it's such a versatile event prop to have!
Welcome Sign and Buggy
One of my favorite finds was a baby doll buggy via marketplace. Filled with flowers and painted white we set it at the entry way to greet our guests along with our welcome sign. I found the buggy on marketplace and Abby picked it up for us, it was perfect!
Our biggest tip for hosting a shower is crowdsourcing and borrowing what you can. Then hitting marketplace. We saved a lot of money by asking to borrow things.
Food
Jesika built the most amazing grazing board for this shower! We used a kraft runner from Hester and Cook (similar). It was filled with all kinds of bagels, cheeses, yogurt and fruits. Probably the most popular area of the entire shower. Trader Joe's had a lot of unique treats and flavors we were able to incorporate. For sweet treats we had macarons and I made sugar cookies tying to the Bonjour Bebe theme that had Eiffel towers on them and florals.
Coffee Station
We decided to make Melanie's favorite latte as a part of the shower, because when in Paris you must have espresso. I made a honey lavendar latte, both an iced and hot version for people to pick from (iced cups, hot cups).To make a latte of any flavor, add about a tablespoon of syrup to the bottom of your cup, add your espresso, (add ice if making iced lattes) and top with frothed whole milk. (This is my favorite frother that does cold foam too) Then add your honey/sweetness. We used a custom sign in the same theme as the rest of our signage. Little Creek Creative is one of my favorite Etsy shops!
Flower Bar
For our favors and activity, we wanted to make our guests feel like they were in a Parisian market. So we made a flower bar! This bouquet bar was so simple and sweet. We ordered bulk florals from Sam's Club and had them delivered 2 days before the shower. The crates were found on Facebook Marketplace for $5/each and filled Ikea buckets with water and set them in the crates. We kept it fairly simple by using hydrangeas and greenery. Using bigger flowers let them stretch a bit further since we had a larger guest list. We wrapped them in floral paper and tied with twine so each guest could take home a special bouquet!
Gifts and Guest Book
We filled Melanie's baby bassinet with gifts and set them by her in a cute rented chair. At the guest table we used a Bible and had guests highlight a verse that they thought was special for her and baby. Melanie's mother-in-law picked the sweetest Bible and we loved that it was a gift from the grandmas for Melanie to look back on!
We had so much fun celebrating Melanie's sweet baby, bonjour bebe we can't wait to meet you!