Love is sweet! And is there anything sweeter than celebrating a bride with a candy-themed bridal shower? When we started to plan my sister-in-law's shower we wanted to tie-in her love of all things sweet with the popular 'She's Been Scooped Up' theme. It ended up as a pastel wonderland, and we definitely channeled our inner Notebook love story vintage carnival.
Looking for more Bridal inspiration?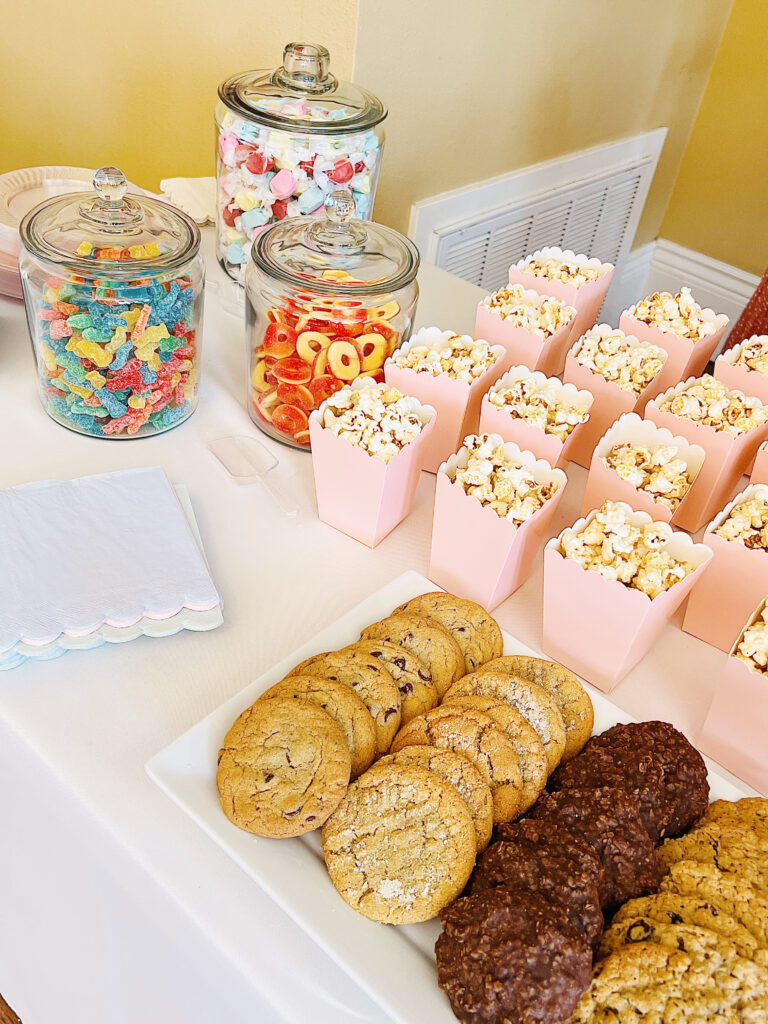 She's Been Scooped Up
We had a lot of theme ideas, but one of our favorites was the theme "she's been scooped up." It's just so sweet and perfect for summertime! While that lends itself to ice cream, we let it represent candy too and had scoops of candy throughout. We did want it to be cohesive and there were nods to the theme throughout, but loosely so that we could just use sweet pastels and decorations without being limited by a theme. This welcome sign was what sealed the deal- it was perfect! I used several signs from this shop for a cohesive look and feel.
Bridal Shower Candy Bar
For almost every party I host I think using food as decor is one of the best tips I can share. Making food a display is an easy way to take up space, make a focal point and give guests something to enjoy.
For the shower dessert table we used clear glass jars and filled them with our bride's favorite candies. We added bags of kettle corn popcorn and carnival+candy themed sugar cookies with royal icing.
This treat sign was the absolute cutest. It did come with mini cones but really it was more of a decor piece since it was a table top size.
Pastel Balloon Arch
Knowing the room was large, I wanted to make sure there was a strong focal point. And I love a balloon arch moment! Pulley Balloon Co. made this balloon arch for us again (she also did my son's birthday party) and the colors she picked were absolutely perfect. If you want to learn how to make your own balloon arch Kinsie helped create a step by step tutorial too!
We went with color blocked muted pastels and draped it around the staircase leading to the second floor of the venue. We rented a chair from Vintage Rental Co. that almost looked like a mini ice cream cone.
Cotton Candy Mocktails
The bride's new last name is 'Rush,' and this sweet Etsy seller made us a custom sign for the occasion. I loved using all the same signs and styles throughout the shower! The maid of honor wanted to make a 'Rush Crush' moment for the shower and we ended up using Crush soda and sparkling water to make a fun mocktail. We topped it with cotton candy. This look was adorable, but I will say it has to be done in real time with the shower and passed out immediately because it did start to melt. Here's a link to my cotton candy machine.
Centerpieces
For the centerpieces, we used sprinkles in milkshake glasses and topped them with a mixed bouquet of florals from Trader Joe's. Photo holders with black and white photos of the couple over the years at each table made the perfect display.
Each table had delicious charcuterie boards that my mother-in-law picked out so that guests were able to snack throughout the shower. This also helped keep the dessert table a part of the overall decorations. I love the scalloped napkins we used from Meri Meri for each place setting! We kept each place setting tied to the pastel colors used throughout the shower.
For games, the maid of honor picked out some that she knew our bride would love, and we played them while opening presents. It's so sweet to see friends surrounding their loved one!
Guest Book
My favorite part of the entire shower was this sweet Bible tribute. Her maid of honor told me about this idea and I immediately teared up! Instead of a guest book each guest highlighted or underlined a verse about love or marriage and put their name by it. I think this is the best idea ever for a guest book and we asked the guests to commit to praying the verse over Paige and Matt.
I hope this helps you plan your own 'scooped up' event! Let us know if you have any questions in the comments.