Whether you're hosting the event or thinking up ideas for your own shower, cookies decorated with royal icing are always a great addition. You can make homemade sugar cookies, order them from a bakery or have them custom made. When I used to sell sugar cookies with royal icing, baby shower cookie sets were always so fun to make!
These 15 sugar cookie designs are sure to be a hit for any baby shower. If you're going to be the one making them- you can do it! You can use a few simple cutters to customize any set for your theme. In the below sets you'll see I use the same cutters over and over but they have such a different look depending on the design and colors being used. You can also use these ideas to share with a cookier in your area as inspiration for the look and feel you are after.
More Shower Ideas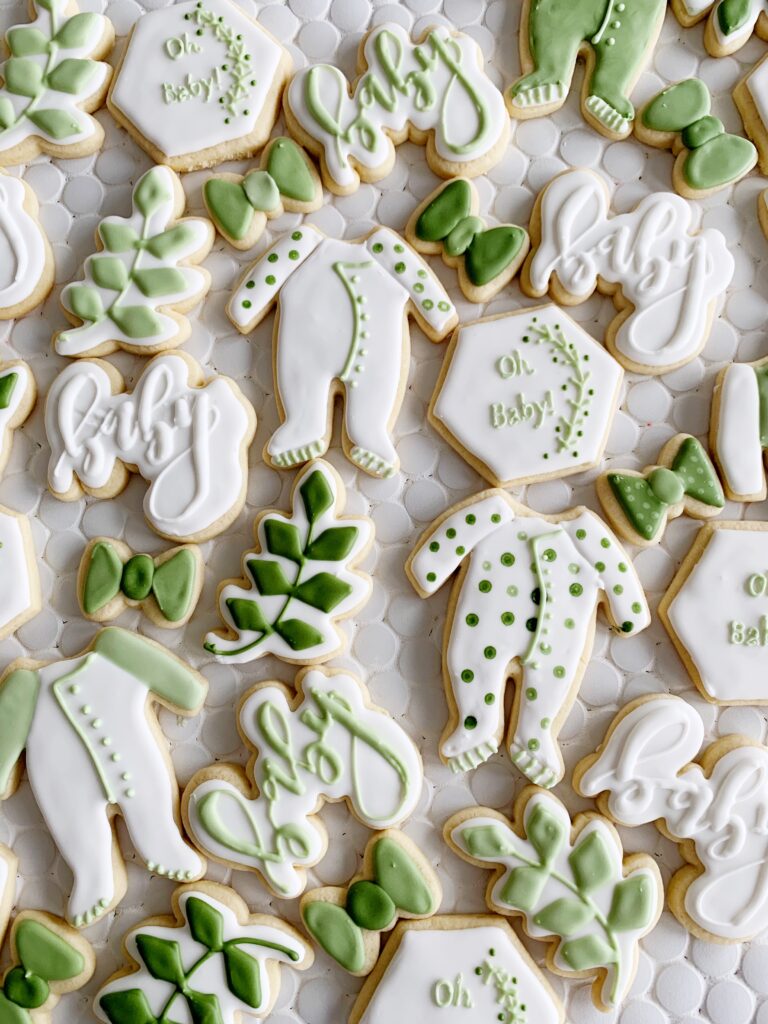 Jungle or Safari Themed
A jungle theme is a great neutral showre theme, and how cute are these mini giraffes and that little lion onesie?! My favorite part of making this set was adding texture to the lion onesie and the mane. I used my one consistency royal icing recipe for everything except the lion mane, I added extra powdered sugar to some of that color to thicken it before making tiny lines.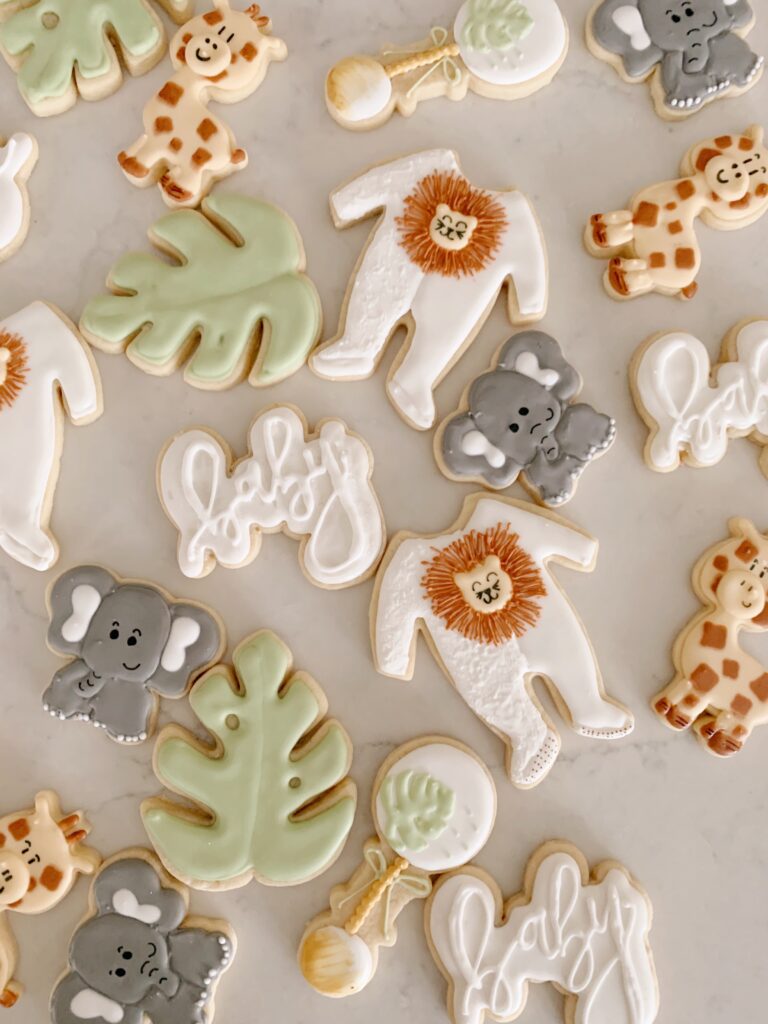 Bun in the Oven
If you have a baker for the mom-to-be, this is the cutest theme! I loved working on this one and the oven was so fun to design. When I'm doing text like on the onesie I like to use a projector.
Rainbow Baby
Rainbow babies are so sweet and special. Celebrating a rainbow baby brings so much joy. The rattle was my favorite from this set!
'Oh Baby'
'Oh Baby' has become a pretty popular theme! Keeping it sweet and simple with text on basic shape cookies is a nice way to add some dimension to the cookie set. I try to keep most sets within a 4-5 color palette too.
Baby Shower Sprinkle
Throwing a 'Sprinkle' is becoming more and more popular. Second babies get what's called a "baby sprinkle" instead of a full-blown shower. Typically gifts are a bit smaller for this type of shower too, especially if the baby is the same gender as their older sibling(s). For this party the theme was tied into that sprinkle theme, and played off of rain and shades of blue.
Wildflower Shower
Florals for a new baby girl are always sweet! The ruffles are the onesie are hands down my favorite. These baby shower cookies are sure to get ooo's and aw's. Use florals and maybe even some lemon themed decor for this sweet shower.
Red White and Baby
Celebrating a summer baby? This 'red, white, and baby' theme is so fun! The firework onesies are so cheerful and the colors really pop. This would be such a fun theme for a backyard BBQ!
Baby Bear
The sweetest little bear surrounded by hearts. What a fun way to celebrate a snuggly new addition to the family. These work great for Valentine's Day too!
Plants and Succulents
This set was a fun way to incorporate greenery into the shower. Just like the baby the plants are growing! To make a terracotta texture on the pots I added another thin layer of royal icing to the cookie after the first layer had dried. Then I took a food-grade brush and tap it around to give it that dimension.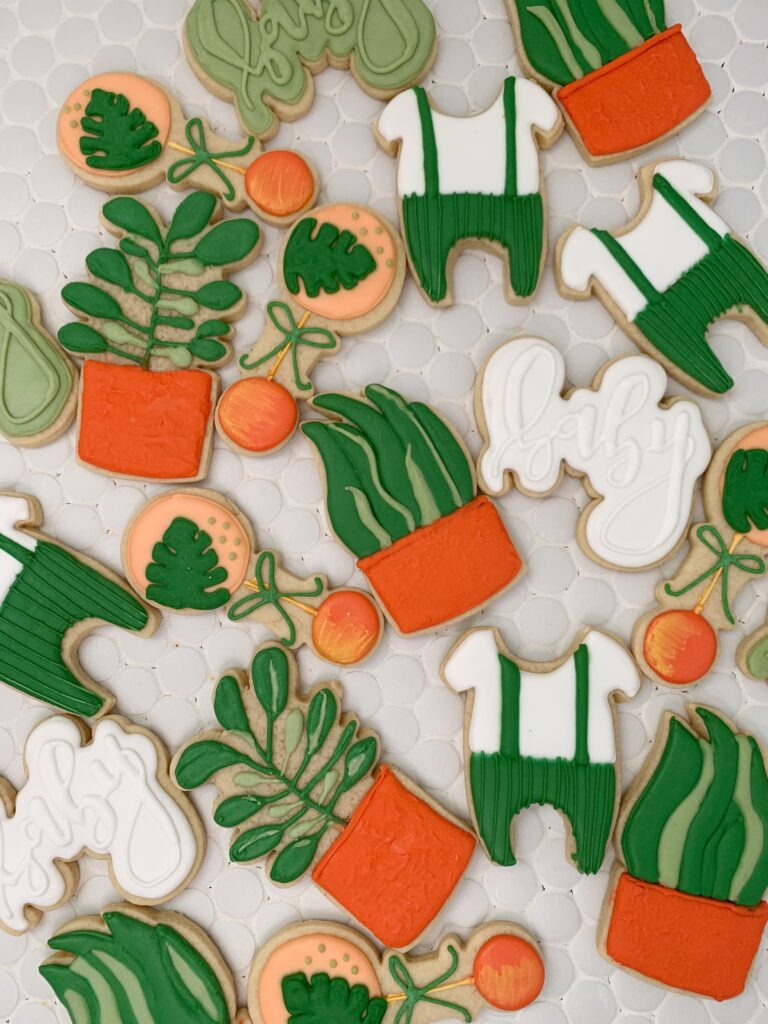 Time to Dance
Is the mom-to-be into theatre or just loves all things pink and girly? This ballet set of baby shower cookies may be the perfect way to celebrate her new addition!
New Little Man
The bowties in this set really make it special. I love using similar colors and tones to make each cookie a little bit different so they all tie together as a set. This 'baby' cookie cutter and text have been my go-to and I use them in almost every baby shower set I make!
Aloha Baby
This baby shower theme was so tropical and fun! The colors were bright and happy. I think the bus stole the show though with the 'baby on board' sticker.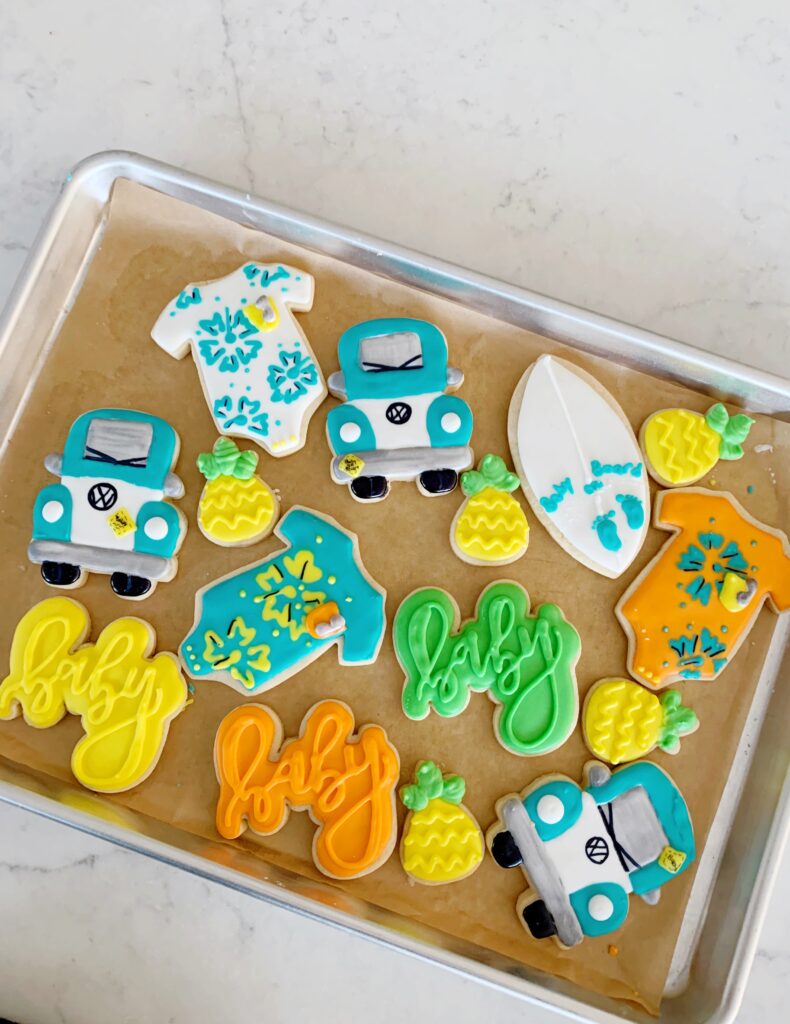 Baby Girl Shower
Using bright shades and fall tones made these colors pop! This onesie and the rattle cookie cutter are two of the most versatile cutters I have!
Baseballs and Bows
While this may be even more perfect for a gender reveal party, if the mom to be doesn't know the gender of the baby yet this could be a fun option to tie into the shower. Football helmet cookies would be a fun option too!
Other Cookie Ideas
Hearts or basic shape in gradient. Hearts are a simple shape that can be perfect for almost even holiday or event.
Tie the cookies and theme into their favorite book, movie or show.
There is a pun to go with almost any food, pick their favorite food and I bet there's a cookie set for it.
Looking for more Party Ideas?
📖 Recipe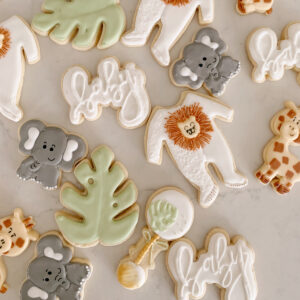 Baby Shower Cookies
Start with a basic sugar cookie recipe and use royal icing to design the perfect dessert for any baby shower theme.
Equipment
1 stand or hand mixer

1 oven
Ingredients
flour, sugar, eggs, vanilla extract, butter, salt and baking powder.
Instructions
Follow your favorite sugar cookie recipe and allow to chill completely. Use a royal icing to decorate in the colors you select.
Notes
All the cookies made in this post were made with my sugar cookie and royal icing recipes available on this site.