Have you ever been asked (or offered) to bring something to a party to watch a football game, but you don't like either team or have any idea of what would be good to bring? Well this post is for you! I'm sharing how I make easy football, football jersey and football helmet cookies that can be customized for any team or level of team you're cheering on.
I actually am a pretty big football fan. I like watching the sport and look forward to that big football game every year. I'm a born and raised Chicago Bears fan, who cheers for the Kansas City Chiefs (where I live) until that far-off date when they play each other in that February showdown when I have to pick a side. Ha... yea that probably won't happen for a long time, so I'm safe for the time being! My issue in February is, I usually don't like or care about ½ or either of the teams playing in the big game. So, I pick one and cheer for them that night only. I do however, love an occasion to break out my simple sugar cookie recipe and customize it for a party!
Jump to Recipe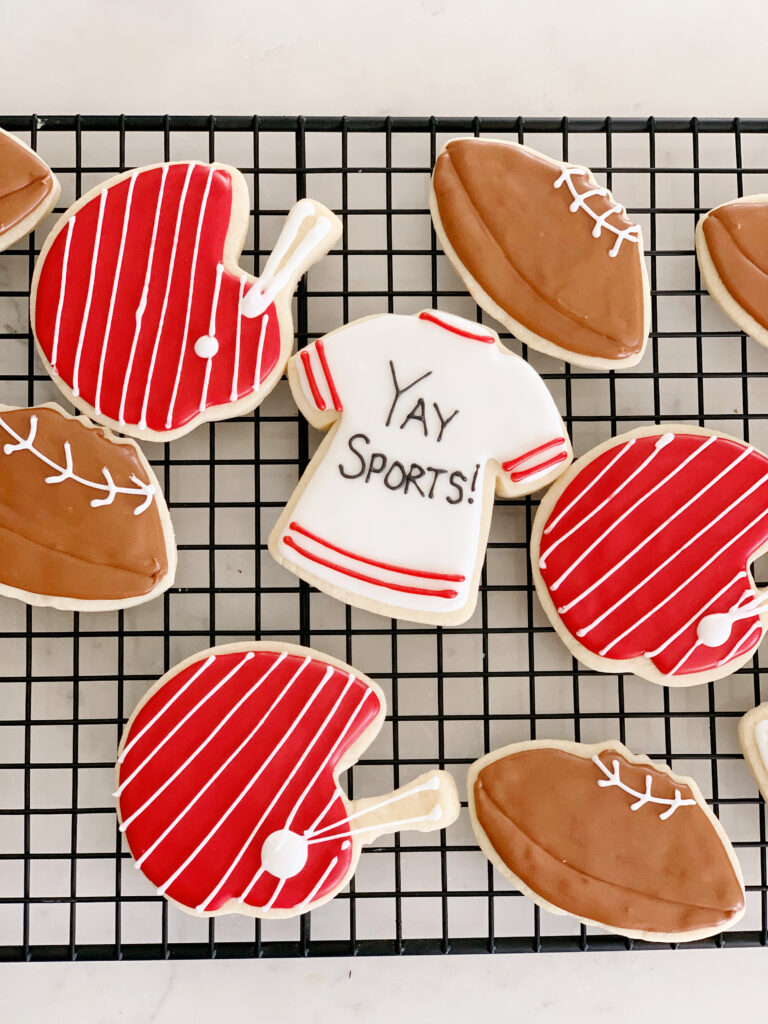 The great thing about sugar cookies is that once you have a recipe and the method for your royal icing down, you can go as simple or complex as you want. The football helmet cookies are a bit simpler than the jerseys, so if you're new to making royal icing I would start with them and that's what I focused on for these directions.
Step 1
Make your cookies. I used this football helmet cookie cutter. You can also buy a set that includes all 3 pieces together- the jersey is just a bit different because I used a Sweet Sugarbelle one I already had. If I'm doing cookies for a party I try to have at least 3 cookie shapes, it just gives it a bit of variety as well as giving people a size option.
Step 2
Prep your icing. Pick out what colors you're going to make for your cookies. I use my one-consistency royal icing recipe, and that keeps it simple because I use the same icing for my outline that I do for my flood. For my football helmet cookies I decided to do red, so the main color of the team and then compliment it with a jersey and a few footballs. If you're going to do the jerseys or are working on something that ha a lot of detailing then go ahead and make an outline consistency to work with- just add a bit of powdered sugar to that color to thicken it up.
Step 3
Outline and then flood your football helmet. The helmet has two main parts, the actual helmet and the face guard. I let the helmet completely dry before going back with white icing to do the guard.
Step 4
Allow icing to dry at least 20 minutes, preferably a few hours or overnight, and then go back and add any details. Since I don't have a specific team in mind this year I went with stripes. You could add a logo, a number if you're cheering on a player, or customize it however you see fit. If you are going to be super detailed and add a logo I would recommend using a stiffer consistency of icing. If you see yourself making a lot of cookies in the future or want to establish this as a skill/sell cookies, you might want to invest in a mini projector for detail work. Allow the cookies to dry overnight and you're ready to go cheer on some football!
If you're looking for more tips around making this base recipe, be sure to visit my Simple Sugar Cookies post and my Easy One Consistency Royal Icing for details and tips to making the perfect icing.
Thanks for letting me share! I hope the 'Yay Sports' reference made you laugh and inspired you to try some baking this week!
xoxo,
Claire
FAQ's
Do you have to make the sugar cookies from scratch?
While I'm biased and think my recipe is the greatest, you could definitely use a box or bag mix. I'd recommend freezing them before baking regardless to help hold their shape a bit more.. cookie mixes are notorious for spreading during their baking.
What's the difference between a flood and an outline?
The outline is like the edge of a picture, or a guideline for the icing not to go past. The flood is like coloring inside the lines and gives royal icing cookies that pretty and smooth look.
How long do the cookies stay fresh?
I typically like to bake, decorate and deliver cookies within a week. If you heat seal them they will last quite a bit longer and stay fresh, the longest I've given them is 2-3 weeks. But, unless you're working ahead for some reason these cookies are delicious enough to eat right away! J
Happy Baking! And if you're looking for another creative idea with cookie cutters, check out this post about making pancake shapes with them. If you try these cookies or have any questions please leave a comment!
📖 Recipe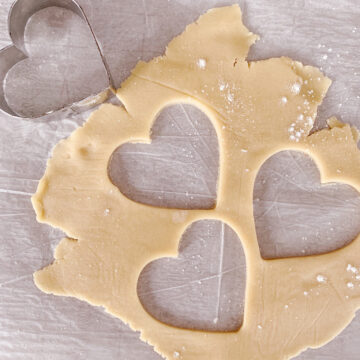 Simple Cut Out Sugar Cookies
A simple cut out cookie recipe perfect for all occasions. Requires chilling and is the perfect base for your royal icing creations. Recipe makes about 2 dozen medium sized cookies.
Equipment
stand or hand mixer

measuring spoons

measuring cups

baking sheets

oven+timer
Ingredients
1

cup

sugar

1

cup

unsalted butter

two sticks or 16 tbsp

2

eggs

1

teaspoon

baking powder

½

teaspoon

salt

3

teaspoon

vanilla

pure vanilla extract, not imitation

3

cups

unbleached flour
Instructions
Beat together your sugar and butter until combined. You can use your stand-mixer or a hand-mixer

Add your eggs and combine.

Add remaining ingredients and stir for 1-2 minutes for the dough to really come together. It should stick to the paddle of your mixer attachment when it's ready and not be sticking to the bowl. *If it is sticking to the bowl you might need to add a bit more flour. It should come off easily with a wooden spoon

Divide into two parts and roll out your dough. I use two cookie sheets for this amount. Stack them with parchment paper in between the layers

Put in the fridge for a minimum of 30 minutes. Allowing the dough to chill will help it set up and hold the shape of your cutouts.

Once the dough has chilled, cut out your shapes and preheat your oven to 350 degrees. Take the first cookie sheet full of shapes and place in the freezer for 7-10 minutes. This minimizes spread.

Bake for 9-12 minutes. This is a variable that's really determined by your oven temp and cookie softness preference. Play with it a bit to see what works best for you.

Allow the cookies to cool on the cookie sheet, the cookies will finish baking directly on the sheet.

Decorate and enjoy! If you want to learn more about royal icing that's a great way to customize and decorate, or butter cream icing is another option.