Breakfast can be fun and easy! Today I'm sharing a little trick to make breakfast a celebration- an easy one. Turning normal pancakes into pancake shapes can make an ordinary breakfast feel special. Someday our kiddos will appreciate it right? So how are we going to make pancake shapes? We're going to use cookie cutters. If you didn't know- I have a pretty significant cookie cutter collection. I made and sold sugar cookies for a few years. There are a lot of cool pancake molds you can get too, but I wanted to use my cookie cutter stash and not add to my storage problems. Now that I don't take any orders and only cookie for fun, I'm always excited when an opportunity arises to use those cutters.
Once you know how to make shaped pancakes with cookie cutters you'll be making them for every holiday and celebration. To make pancakes with cookie cutters you just need one tool- aluminum foil. Using foil can turn any cookie cutter into a pancake mold! It's worth calling out that these are griddle pancakes too, and my instructions assume you're using a griddle. Using my griddle is my favorite way to make pancakes because you can have multiple pancakes going at once. You can also control the temp of the griddle which, when you get distracted easily helps.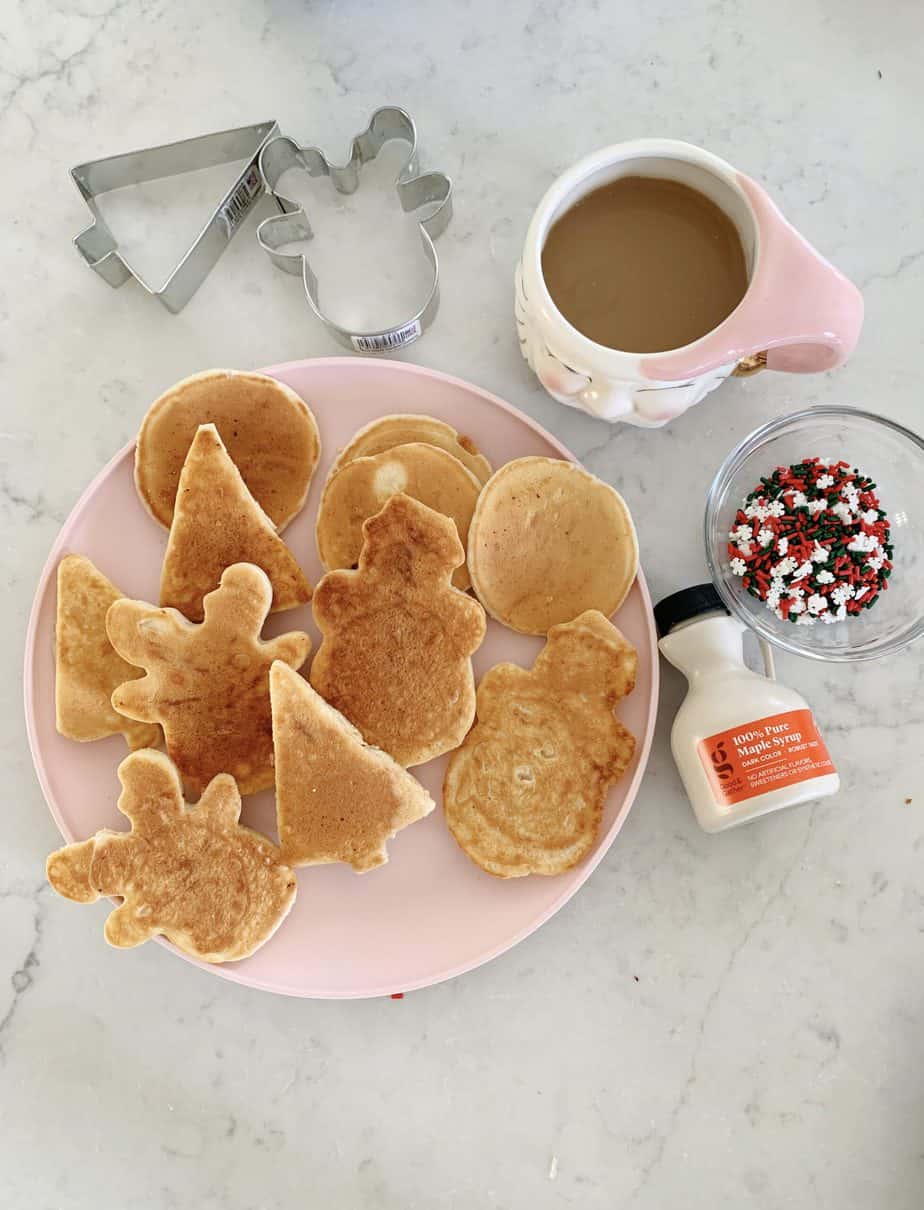 Tips for Making Pancake Shapes
It may be obvious- but when making pancakes the pan or griddle you use will be hot. And cookie cutters get hot too. The foil acts as a barrier but it can still warm, so be careful and aware.
Only use metal cookie cutters. The 3D printed designs and plastic ones will melt.
Make sure to grease your cookie cutter before using. I spray quite a bit of spray on the cutter before using it.
Tap the cutter several times so it will drop out of the cookie cutter. I check the bottom of the pancake to make sure it's browning before trying to tap it out to flip.
Cooking for a crowd or in a time crunch? Give everyone just one fun shape and do circles for the rest!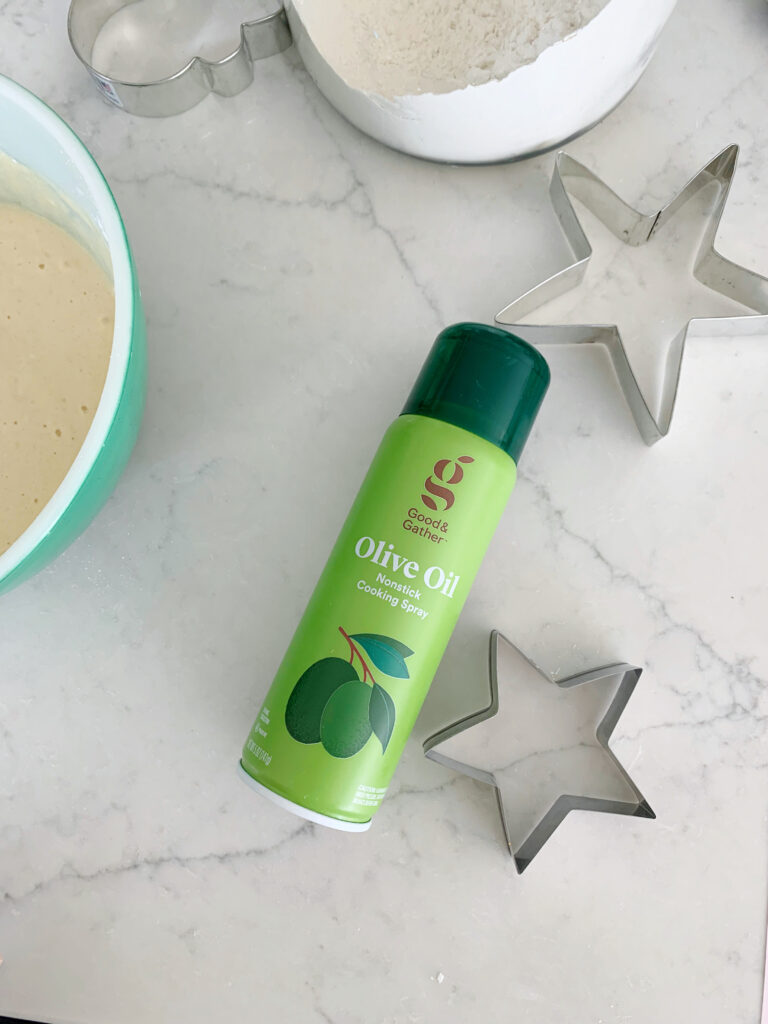 You can use a box mix to make pancake shapes, or you can use my recipe below. There are a few substitution options included, this is a homemade pancake recipe without milk if that's your preference. You can even make pumpkin pancakes or gingerbread pancakes and turn this into an instant holiday tradition. It would even be a perfect treat for a birthday party!
How to Turn a Cookie Cutter into a Pancake Mold
This is so easy to do and lets you repurpose those cookie cutters. You'll need a sheet or two of aluminum foil and your cutter, and that's it! Here's how to make your mold.
Tear off a piece of foil and fold it into about a straw sized width. You'll need a few pieces. I use one on each corner of the cutter.
Wrap it around your cookie cutter, and twist together.
Repeat near each edge of the cutter.
This step is so important- grease your cookie cutter! Otherwise it won't slide out easily and the shape could be ruined.
After you wrap your cutter, lay it on your hot and greased griddle. Scoop your pancake mix using a spoon and add the batter to the greased griddle and inside of the cookie cutter. The amount of mix you use will vary depending on the size of your cutter. Next, I let it cook for around 3 minutes. I keep my griddle around 325 degrees.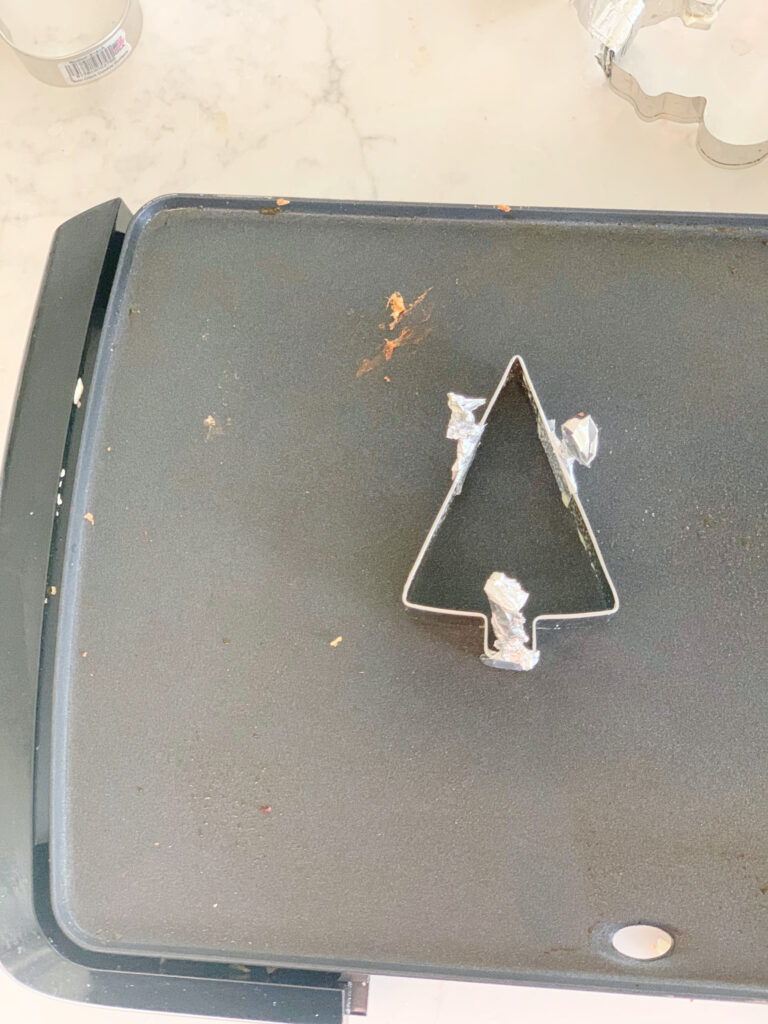 One tip for removing your pancake from the cookie cutter. Tap the cutter onto the griddle and the pancake will be easier to slide out. It may take a few taps but it will get there. And make sure your pancake has fully cooked on the bottom before trying to flip it. I may have had a few turn into blobs here and there because I was impatient. 🙂
Let your pancake cook for a minute or two on the other side. Has anyone else ever tried to flip a pancake in a pan? Christmas in Connecticut is one of my all time favorite movies and someday I will accomplish that pan flip! A girl can dream.
After the pancakes have cooled, top with your toppings of choice and enjoy! I recommend maple syrup, whipped cream and sprinkles! Strawberries, bananas and blueberries are always a hit too. Happy baking! Here's a video if it's helpful to see the step by step process too.
xoxo,
Claire
FAQ's
Does the cookie cutter get hot?
Yes! When on the griddle the metal heats up. It will cool quickly but be careful removing the cutter from the batter. The foil acts as a barrier but you still want to be aware.
How do you know when a pancake is ready to flip?
You'll see little bubbles forming on the edge and firming up. That's how you know you can flip your pancake.
Can I cut the pancake shape after the pancake has cooked fully and cooled?
Yes you can! I found it a bit easier to cut and work with on the griddle, but definitely do whatever you're most comfortable with.
Can you do more than one pancake at once?
Yes! I would prep your foil for the cookie cutters and have them ready to go if you want to work on more than one pancake at a time.
📖 Recipe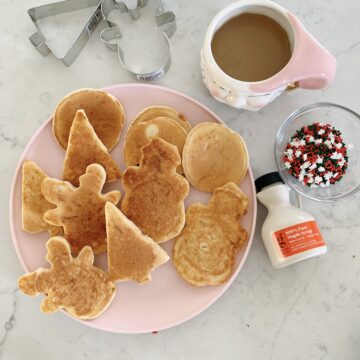 Easy Pancake Shapes
This is the base recipe I use when making homemade pancakes. Including a few substitution options as well.
Equipment
griddle or pan

cookie cutters

measuring spoons

bowls

aluminum foil
Ingredients
1

cup

flour

2

tablespoon

sugar

2

tablespoon

baking powder

½

teaspoon

salt

1

egg

beaten

1

cup

milk

can substitute water

2

tablespoon

oil

recommend olive or sunflower
Instructions
Stir together your dry ingredients in a bowl

Mix together your liquid ingredients, add to dry ingredients

Pour 1-2 spoonfuls of batter into your greased cookie cutter that's on the hot+greased griddle and allow to set for 3-4 minutes (depending on your griddle heat). I usually wait 2-3 minutes and have mine set to 325-350.

Tap the cutter, holding the aluminum foil, to release the pancake. Usually it takes me 10-15 gentle taps.

Flip pancake over, and allow to cook on griddle for 2 minutes

Use a spatula to remove excess pancake batter and remove cookie cutter safely. The cookie cutter may be hot, be careful not to lift directly, consider using a pot holder.

Top with syrup, butter, or your topping of choice and enjoy!