What better way to celebrate turning five than by decorating donuts with your best friends? Throwing a donut party is so much fun - and easier than you may think! We're sharing the best ideas for a donut party below, everything you'll need for a special birthday celebration.
One of my daughter's favorite special breakfast snacks is donuts, so the party inspiration was pretty simple. Using donuts as the inspiration we planned on donut themed food with plenty of sprinkles, and a fun activity to keep little hands busy.
Looking for more birthday party inspiration?
Donut Party Decorations
When beginning my planning, I always create a note on my phone with the ideas and designs I was hoping to achieve and then jump on Amazon and Etsy to find the look!
A few of my favorite items included these:
I was going for more of a girlie brunch vibe, so I snuck a mason jar in the middle for the floral display as an added look. A couple of other items that I loved were this adorable, pink, light up cinema sign and of course we needed adorable balloons! Lushra balloons are so easy to work with and I love that they come with an instruction card. These balloons are the highest quality I've bought online too!
Invitations
We are huge fans of sending and receiving mail, so we headed to Etsy for the perfect invite. We chose this one and it was a hit! I wanted to make sure the girls knew to wear their favorite pajamas, so this was perfect. I'd highly recommend purchasing a digital file and editing it yourself just in case the party time or location changes!
Food
One of my personal favorite parts of her party was the treats! I knew I wanted to stick to the theme of brunch, but a five year old version. Each girl was given a plain, unglazed donut (I used a local grocery store and ordered them ahead of time AND yep - unglazed! Trust me), as well as one of these paint palettes. I put the donut in the middle and then icing and sprinkles of their choice in the spaces. I also provided these mini spatulas so there wasn't any double dipping once I gave them their icing.
Another fan favorite treat was bacon and eggs - but not the traditional kind! Think candied bacon and eggs... chocolate, pretzels, and M&Ms. So easy to make and they were the biggest hit!
These waffle bowls from Target were the best added touch for the fruit bowls! It eliminated serving from a large bowl and allowed each girl to have her own.
Her cake was one of my favorites and so easy! We chose this cake topper from Etsy and then ordered a simple strawberry cake rolled in sprinkles from our local bakery.
Donut Box Party Favors
At the end of the party, each girl took home her milk jar, donut straw, mini spatula, these boxes of cereal with a spoon tied to it, as well as these adorable donut shoppe boxes. We filled them with a personalized coloring page, popsicle lip glosses, donut stickers, and donut key chains.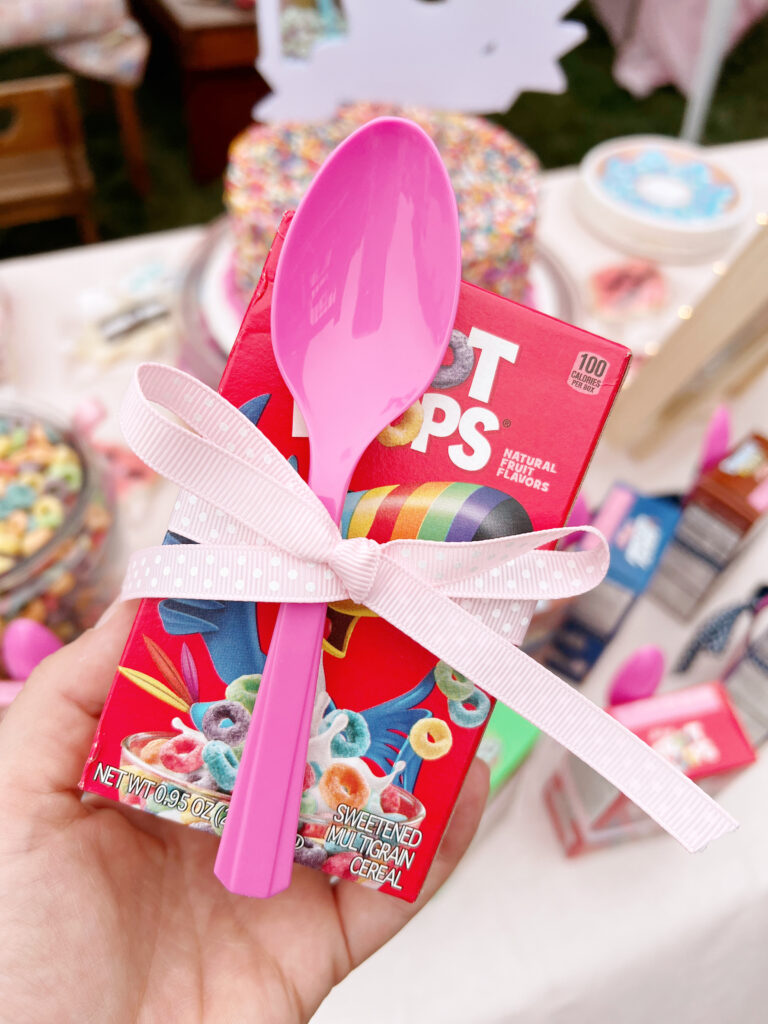 Pinata time!
The last thing we did was a birthday classic. What better way to end a donut brunch celebration than with a piñata? We chose this one and it worked great. I do wish it would have come with a rope or string already attached, but we made it work with what we already had at home.
Birthday parties are a blast, and there is always so much potential to whichever theme you decide to use. Ultimately, please remember that whatever you plan for your child, they will love. Spending time celebrating them is what's most important!
Happy party planning!