A good theme helps you get organized with all the food and decorations you'll be planning. It's also fun for your kiddo and guests to have things tied together. Ever since I threw my first son's first birthday party, I fell in love with throwing my kids fun themed birthday parties! I start dreaming up ideas for food and decor months before their actual birthday.
We also have been working on an addition to the back of our home. The demolition of that project took off the same week as my son's 2nd birthday party. So, in order to be "on theme" we decided a construction theme birthday was in order! This worked out perfectly because my son loves dirt and construction trucks. My friends joked that I really went above and beyond in my décor, because the day of his party we had a massive pile of dirt in our driveway and that was also the same day the dirt was to be taken away. So all of our guests were able to see construction in real time during his party! (Which was both funny and terrifying at the same time for me!)
Construction Themed Food
For the food, we wanted to do something fun and creative we had not done before. My husband saw an idea online of a hot dog bar and we thought this could be a fun idea for a kids party. My sister had just told me of a local place in town that had the best hot dogs she had ever had in her life. I ordered those for the party and sure enough, they were an absolute hit! I bought supplies off of Amazon for hot dog holders, and then we bought warming trays to keep the hot dogs and buns in so people could serve themselves as they came and went and would easily keep the food warm without us having to tend to it during the party.
My husband printed and laminated cards that had each of the type of hot dog style and their ingredients. I then put each ingredient in a plastic bowl (again, off Amazon for easy clean up!) and lined each ingredient up next to the cards so people could easily assemble their hot dogs!
Themed Desserts
For a fun dessert, I decided to make 'dirt cups'. To make them you use chocolate pudding, crushed Oreos, and gummy worms on top! Pro tip: put them in a blender to make it fine like dirt! The kids LOVED these and I saw several adults who did also! If you want to be extra on theme, order the mini shovel spoons ...adorable!
Other items I had available were waters and soda in a cooler for easy access, individual chip bags, potato salad, and cut up fruit. We did Crumbl Cookies and a construction themed sheet cake as well! After all, you can never have too many deserts at a kids birthday party, am I right?
Decorations
Although I don't know that it felt ideal to me as the mom planning the party, the organic construction going on really fit the theme well. However, I wouldn't suggest going that far when planning your own construction theme party!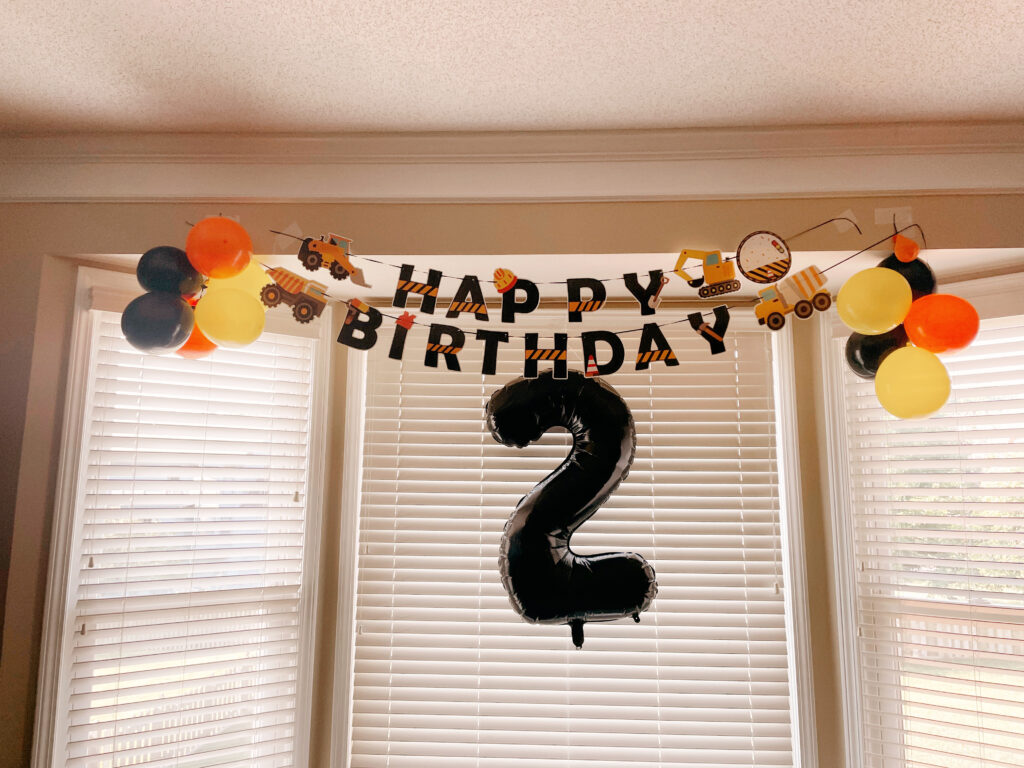 I found several cute construction themed decor items on Amazon! From banners, to large blow up truck balloons, construction pop-up trucks, to the spoons that looked like mini shovels, they had an awesome selection that we used throughout the house. The funniest was the "caution" construction tape my husband put around the doors and doorframes. That was very on theme for the condition of the back of our house!
Party Favors
We made the cutest gift bags for favors- including a small construction truck, some crafting and coloring pages, a funny looking bouncy ball and a bubble wand.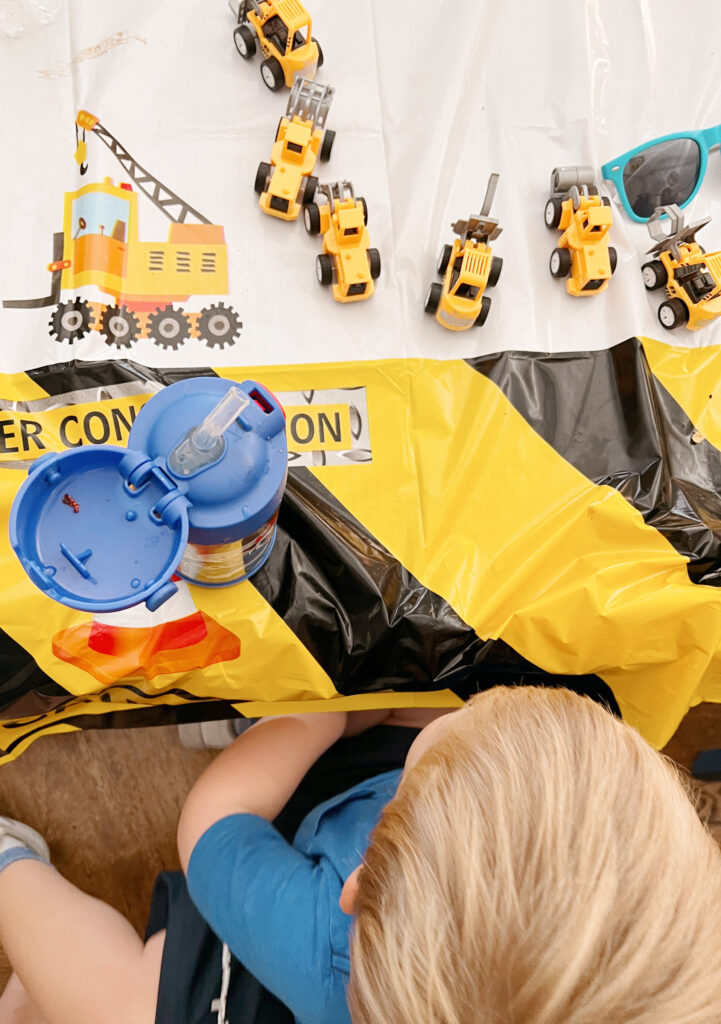 Tips for Planning a Construction Themed Birthday
Make a fun food theme! Whether it is a hot dog bar, dirt cups, or something else - thinking out of the box makes it different and fun for guests as well.
Put the gift bags up front! Especially if you will have younger kids, having people grab the gift bags when they come in can make entertaining kids at a party way easier! (And might allow the parents to have a bite to eat, too!)
Have fun! The reason I love throwing my kids birthday parties is to see the pure joy on their faces and to have my closests friends and family together in our home. Making memories like this fills my heart with joy and no one will care if everything is perfect or not!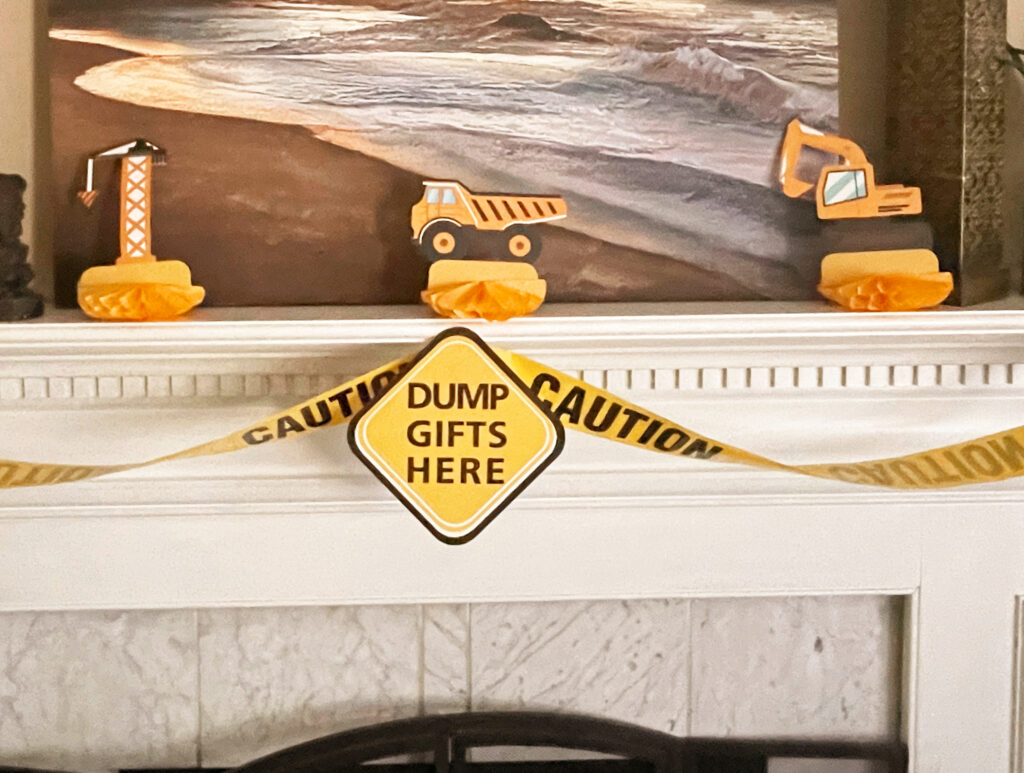 I hope this helps you plan your next construction themed birthday party!
Looking for more birthday party ideas?