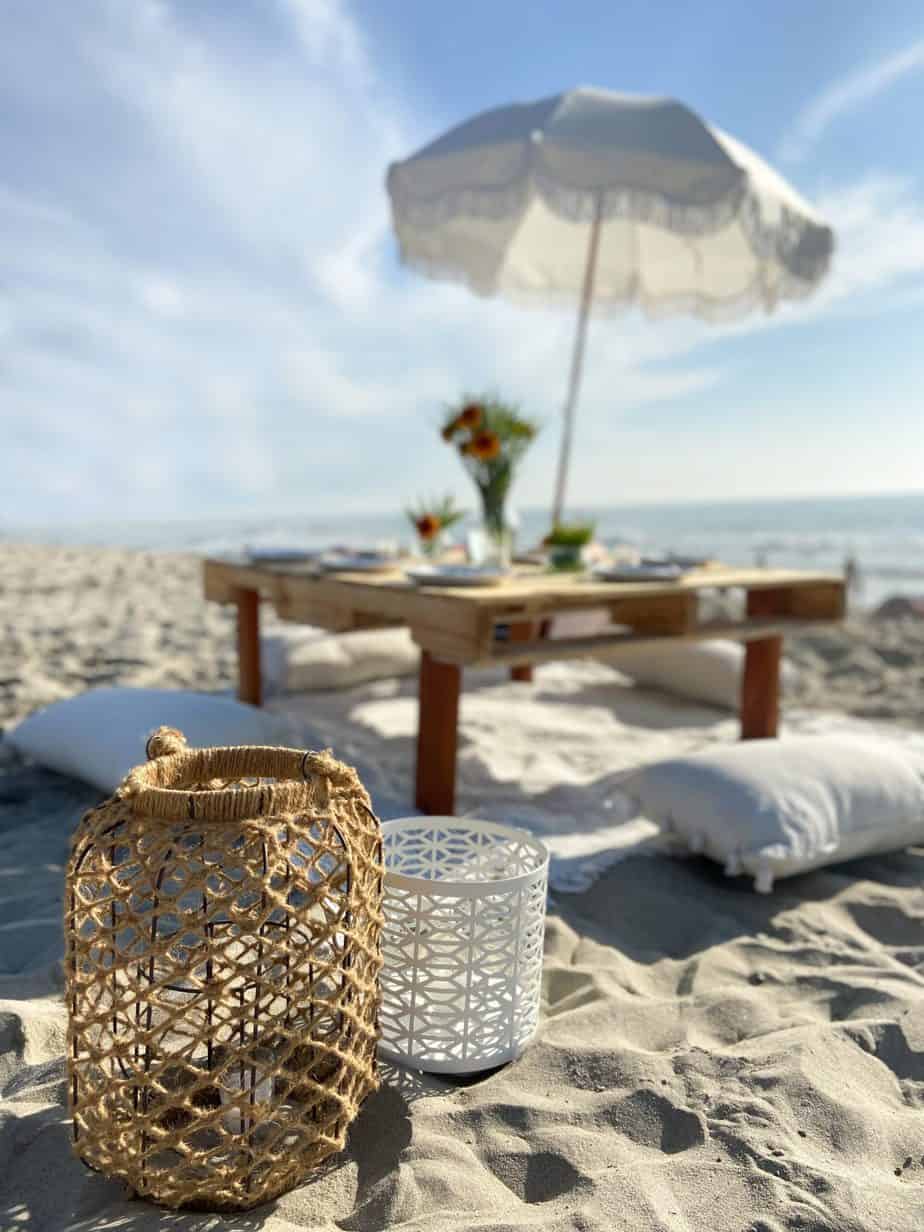 I'm really excited to share this easy beach picnic setup with you today! For starters, it's absolutely adorable! And secondly, I didn't spend any extra money on this picnic! It's pretty much an all-around win win!!
One of my close friends requested a beach picnic to celebrate her birthday this year. Why settle for a beach themed party when you can go to the beach and use the palm trees for decorations right? A few of us put our heads together and came up with the cutest little beachy picnic imaginable! I'm going to walk you through everything we put together for our picnic at the beach, but this would be so cute at a park or in a backyard.. really anywhere!
Boho DIY Pallet Table
The first thing I knew we needed was my handy pallet table. I love this table so so much! It's the perfect height for eating on the ground, without feeling like your food is also on the ground.. Goals! It added to the boho vibe for our beach birthday party, which I loved. This table is also ideal for littles! I will definitely be using this for kiddo birthday parties and maybe even a cute "kids table" at a backyard bbq! If you're interested in making a pallet table just like this I walk through all the steps in the blog post- and honestly it's the easiest thing ever!
Business & Pleasure Beach Blanket!
My friend recently bought the Business & Pleasure beach blanket and it is just to die for! It has a cute cutout to put an umbrella through the middle, but we centered the pallet table on top of it. If you don't have any larger sized blankets, I would suggest throwing a few together and layering. If you're going for a more boho look, then choose bright colors and textured blankets to mix and matched! But if neutral is your vibe, then stick to one or two colors and mix and match within those tones!
World Market Outdoor Pillows
We used these pillows from my friend's outdoor sectional. They're from World Market and they tied the whole beach picnic together, in my opinion. The little tassels on the sides are adorable! Any outdoor cushions or pillows would work perfectly and they don't have to all be the same.
Business & Pleasure Umbrella
I purchased this Business & Pleasure umbrella for my wedding a few months ago and I love it! It's perfectly boho, chic and classy. I will be using this beach umbrella for bridal and baby showers, outdoor dinners, you name it! Having a portal beach umbrella has been a great investment for me. It is a bit pricey, so here's another more affordable (and equally cute) option. What I love about all of these pieces for the beach birthday party is that we didn't buy anything specifically for it, we used what we had for other occasions. Shopping your own home should always be the first step in planning an event or party!
Picnic Table Decorations
For our party we used my simple white plates from West Elm. I think everyone should own basic white plates because they are so versatile! We kept the tablescape pretty minimal, with these little votive candles from Michaels and Trader Joe's florals. Not to mention that killer cheeseboard (Thanks to Chef Trader Joes!!)
Lanterns + Sign
Our finishing touches included a little letterboard sign and mix n matched lanterns! I've accumulated these lanterns throughout the years, but these three in particular are old ones from Home Goods and Target.
That's pretty much all it takes! I think you'll find that you have most of these bits and bobs around your house already, and if you don't, chances are that a friend does! It really is such a great birthday idea and an excuse to have a fun girls night!
I can't wait to hear how yours turns out!
Melanie