This has been the summer of popsicles in our family! My husband and I love having a sweet but healthy treat after dinner, and I've been having so much fun coming up with new recipes. Orange creamsicles are one of Ben's childhood favorites, so I decided to try making a homemade orange creamsicle recipe! I only use 3 ingredients in this orange popsicle recipe and it is so yummy!
Steps to make the orange popsicle recipe
These are so simple to make! I only used oranges, coconut milk, and honey! If you prefer to simplify and use store bought orange juice, that is totally fine! I make myself a fresh glass of OJ every morning using organic valencia oranges, so I grabbed a few and juiced them for these creamsicles. By the way, I love my citrus juicer! It is so easy to make OJ using this thing!
I had a few cans of unsweetened coconut milk so I decided to use one of those as my "cream" element for this orange creamsicle recipe. I only used the solid cream from the can, not the clear liquid part. Save the liquid part for another recipe!
Lastly, I added honey for sweetness! Next time I will also try this recipe with some orange zest to punch up the orange flavor!
Blend all three ingredients in a blender and then fill up the popsicle mold! Here is the mold I use, and it comes with disposable popsicle sticks for parties/events, and little single serve baggies that seal!
Mmm Delicious and creamy creamsicles to enjoy!!
After letting the popsicles set up in the freezer, remove them from the mold and enjoy!! The coconut milk makes these guys so creamy and yummy! They're a huge hit with my hubby!
Helpful orange creamsicle recipe tips
If you do not want to juice oranges, feel free to use store bought orange juice, or even frozen OJ would work too!
For a punchier popsicle, use some orange zest and blend it up with the other ingredients
I had some separation at the very bottom of my popsicle, so don't worry if this happens to yours, too! The popsicles are still so yummy even with that little bit of separation!
If your popsicle is having trouble coming out of the mold, run some water over it, and that should help loosen it up!
Try these with other fruits too!! Lemon, lime, and strawberry creamsicles all come to mind.. yummm...
I hope you enjoyed this orange creamsicles recipe, and please let me know if you try this!! If you'd like more popsicle inspo, check out these posts:
Rocket Popsicle- A Bomb Pop Made with Real Fruit
Lime Popsicle with Strawberry!
xoxo,
Melanie
📖 Recipe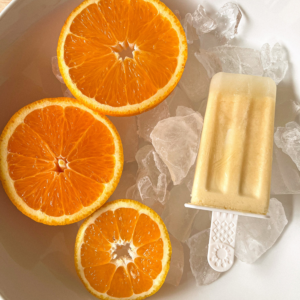 Orange Creamsicles Recipe- only three ingredients!
These orange creamsicles are a clean and yummy summer treat to enjoy with family and friends! Using only orange juice, honey, and coconut milk, they're the perfect mix of creamy and tangy!
Ingredients
1 ¾

cup

fresh squeezed orange juice

I used organic Valencia oranges, but subbing for store bought fresh or frozen OJ is fine too

1

can

coconut milk

I only used the cream on top, not the liquid, so this recipe only calls for approximately half of the can

2

tablespoon

honey

zest of orange

optional
Instructions
juice oranges, I used approximately 5

strain oranges through a wire mesh strainer. This is optional but we prefer our popsicles pulp free!

pour orange juice into blender

open the can of coconut milk and take the cream from the top (approximately half the can) and add to the blender. Do not use the clear liquid part.

Add the honey to the blender

Add the orange zest to the blender (optional) and blend all the ingredients until smooth

fill each popsicle mold until full

place the popsicle mold into the freezer and allow to fully freeze, this takes approximately 5 hours.

Once fully frozen, remove the popsicles from the mold and enjoy!!!