Cotton candy is the perfect addition to any party, and making it at home turns it into a really fun activity for everyone to watch and enjoy. To make cotton candy you do need a cotton candy machine. You can usually find them in the 30-40 dollar range on sale at various stores and when on sale.
When making cotton candy you may think you need to buy the special sugar, but in reality you can make it with any hard candy! Using jolly ranchers to make your cotton candy is perfect for both entertaining your guests and as a delicious treat. This would be perfect for a birthday party, or bridal shower. I used mine at our rookie of the year birthday party.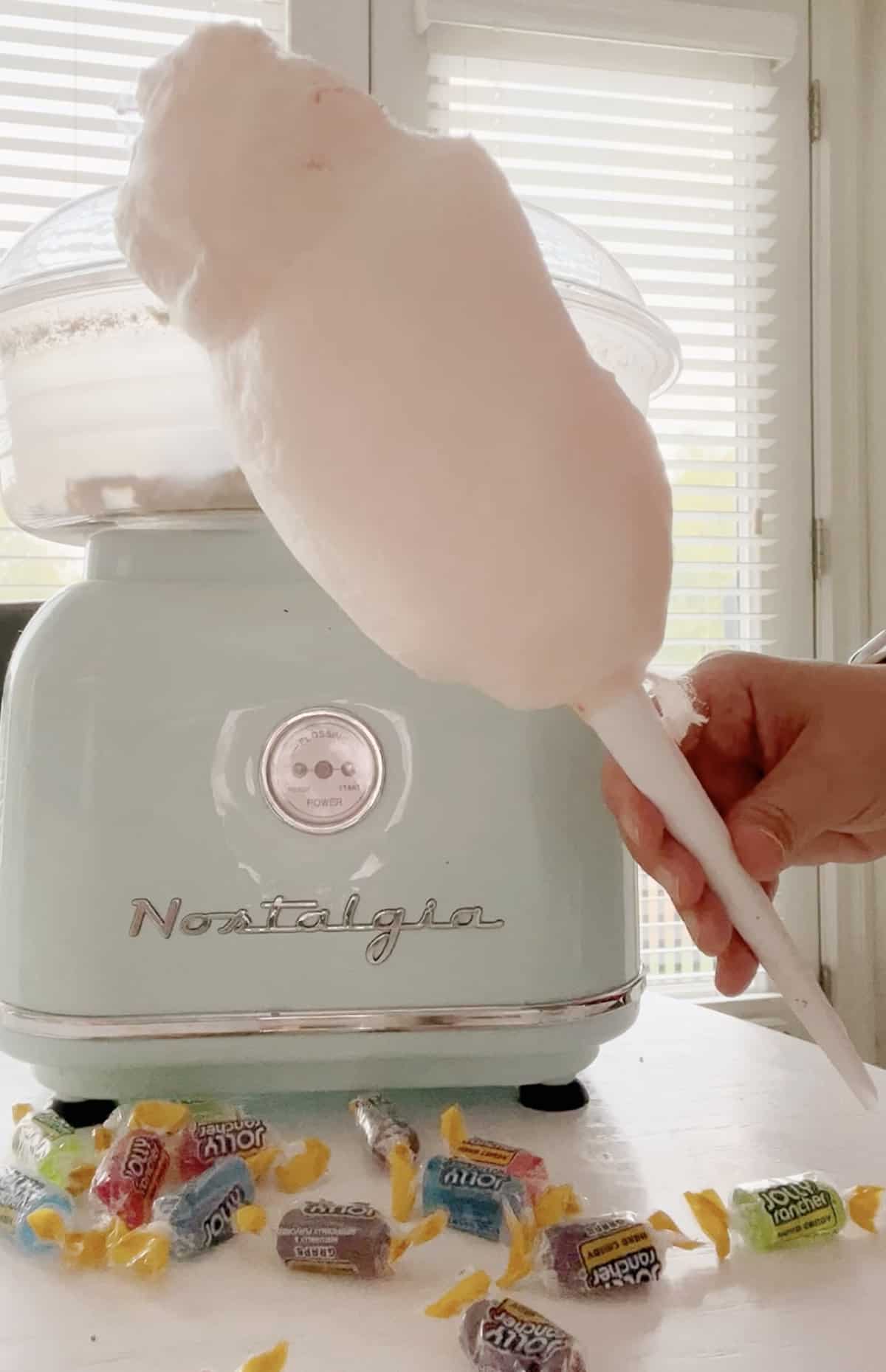 How to Make It
All you need to do to make your jolly rancher cotton candy is to pick a flavor, unwrap the candies and add two to the machine. If you want a fuller and fluffier cotton candy, wait until the two candies are completely melted, then turn off the machine and add two more. I think it helps to have them evenly spaced apart. It really is that simple and so much fun to watch it spin and come together!
Using a Cotton Candy Machine
I've only used the Nostalgia brand, and in the countertop size. Be sure to use your manual and read reviews of any machine you're using.
Let your machine preheat before you start. Otherwise you'll be watching it spin for a while. It needs between 5-10 minutes to preheat typically.
The machine will get very hot. Keep your fingers/hair/jewelry away from it. If a piece of cotton candy falls off into the machine, turn the machine off and let it cool before trying to retrieve it.
After your machine has preheated, turn off the machine and then place your candies in the heating area. Don't try to drop them in while it's spinning.

You can also crush them to make smaller pieces before adding to the machine.

I recommend using 2 candies per candy floss, it doesn't overload the machine and makes a decent serving size. If you want a larger serving of cotton candy so it has more of a traditional look, wait until the 2 are completely melted, turn off the machine and add additional candies.
You'll want to practice spinning the candy floss so it gets fluffy. If you wrap it too tightly it doesn't have the same visual effect, but don't worry it still tastes amazing.
If you're having trouble with the texture, try crushing the candies up or making sure they're spread far enough apart. If you have a clog, follow your manufacturer's instructions to fix it.
Other Flavors to Try for Cotton Candy
Try root beer, peppermint, or other flavored hard candies for a fun treat!
Any hard candy will work. I would not put in gummy candy or other powdered sugar, it could damage the machine. I tried Kool-Aid and it was not fun to clean.
Try mixing and matching flavors. You can also buy cotton candy sugar to use if you'd prefer or if you're looking for a specific color/flavor.
How to Clean Your Cotton Candy Machine
To clean your cotton candy machine, first unplug it and let it cool for at least 5-10 minutes. You don't want to get burnt. Then take it apart following your manual and wipe down with a wet cloth. I usually wash the plastic pieces while the machine cools and then wipe down the part around the burner with a warm, wet towel to get as much excess sugar out of the machine as possible. Check your manufacturer's instructions before attempting any cleaning of any sort so that you don't accidentally damage your machine.
FAQ
What kind of candy or floss should you use?
You can use hard candies or traditional cotton candy sugar in the machine. Refer to the owner's manual for any restrictions and recommendations.
How long does it take to make the cotton candy?
After the machine has preheated, it takes about 2-3 minutes to make a stick of cotton candy.
How many pieces of candy can I put in the machine?
Refer to your owner's manual, but for this countertop unit 2 pieces of hard candy is recommended. You can also crush up the hard candy before putting it in the machine.
Which colors are the best?
When using jolly ranchers the Cherry and Watermelon flavors color show the best, the watermelon has the classic pink cotton candy look.
📖 Recipe
Jolly Rancher Cotton Candy
Use hard candies to make the best cotton candy flavors that will be a crowd pleaser! This recipe is perfect for any party or get together. You do need a cotton candy machine to make it.
Equipment
1 cotton candy machine

I like the Nostalgia countertop appliance.

1 cone

to spin the cotton candy onto. Can also use
Ingredients
2

pieces

of Jolly Rancher candy, in flavor of choice.

can also use any hard candy.

2

pieces

(additional) jolly rancher candy

to make a fluffier spool of cotton candy. Make sure to use up all of first two pieces before adding more.
Instructions
Preheat your cotton candy maker for 4-5 minutes minimum.

Add two Jolly Rancher candies to the cotton candy machine, evenly spaced apart. This will prevent the machine from shaking or being off-balanced.

Allow floss to form and twist cone above the cotton candy machine, collecting the floss onto the cone.

Once the candies have fully melted it will stop making floss automatically.

Allow machine to cool and clean it.