Jump to Directions
Do you have a stash of Trader Joe's grocery bags? Then you're in luck! I am so proud of this DIY paper bag easter bunny. Using only supplies I had at home I made an Easter basket for my son, that, I may be biased but I think is entirely adorable. He does have other Easter baskets, being the first child in our house and also first grandchild on one side, (enough said) but I had an idea in my head on how to upcycle this grocery bag and am so happy with how it turned out.
Why should you make your own easter basket? Not only is it eco-friendly, it cost next to nothing and you can customize it with your child as they grow and have different interests, making it a tradition. I can't wait until Miles can help me make his Easter basket next year!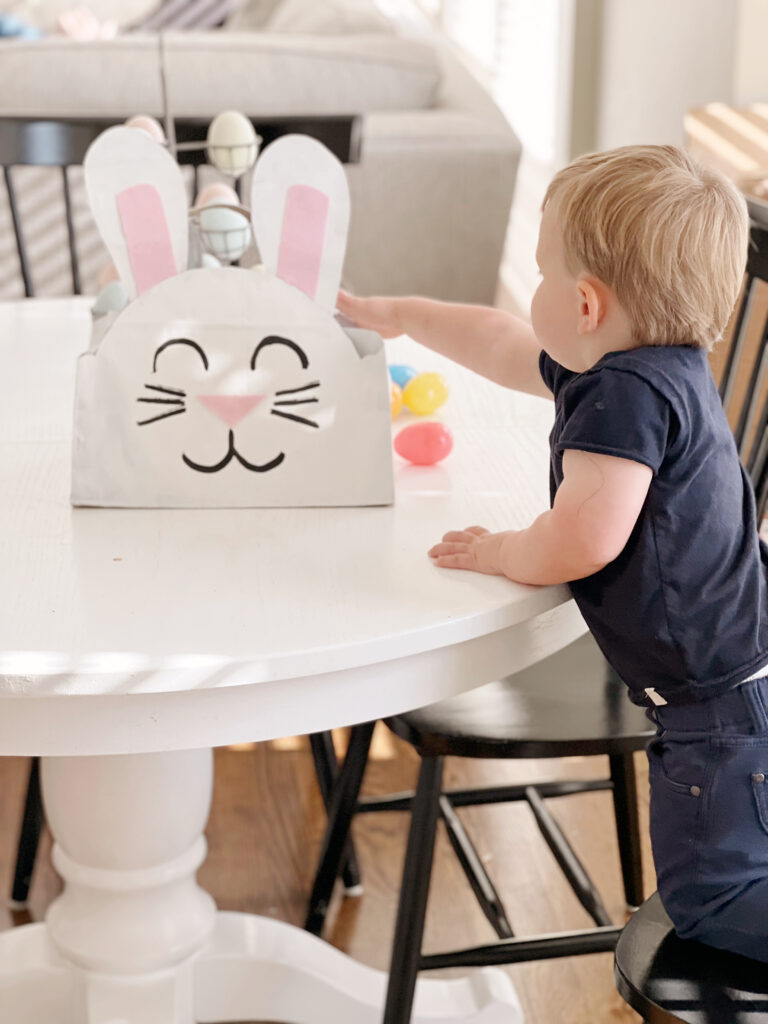 Supplies
You don't need a ton of things to make this grocery bag easter bunny basket, but here's the list of what I used.
one paper grocery bag
a plate (just to trace)
white and black craft paint
floral wire (just to give the ears a bit more support)
hot glue gun and hot glue
felt in pink
a white yarn pom
Steps
Cut out your bunny pieces, I used a plate to trace the head on each side. Make sure not to cut out the bottom or sides as they hold the bag together. Trace your first bunny ear so that you can reuse it for the other 1-3.
Paint your pieces and use your hot glue gun to assemble the bunny. I used floral wire here to give it a little extra support, but you don't have to. You could also use a pipe cleaner.
Make sure you're following us on Pinterest for even more holiday ideas and inspiration!
Decorate your bunny however you decide! I gave our bunny a little face with a felt nose and painted on ears/whiskers. You could make a funny face, a winking bunny or even paint a name on it. If you are going to paint on a face I would draw it on first and then paint.
Don't forget your bunny tail! I borrowed a pom from my pom pom garland and hot glued it to the back of the bag.
Looking for more Easter inspiration?
Tips
If you don't have time to make a pom, borrow one from a pom pom garland! or you can use felt for the tail.
One thing I would have done differently was maybe just using two ears instead of four. I ended up going back and spray painting the inside of the grocery bag because you could see the inside of the ears pointing out. Craft projects can get as complicated as you make them or stay simple.
This is easy to accomplish in a weekend or over a period of nap times. The longest part is letting the paint dry.
Print
Paper Bag Bunny- DIY Easter Basket
This adorable paper bag bunny easter basket is easy to make over a weekend and the perfect customizable basket that your kiddo can help with.
Cost:
$5-$10, depending on supplies on hand
Equipment
1 Pair of scissors

1 pencil or marker

1 paintbrush

art size is fine or sponge brush, whatever you have will work.

1 hot glue gun

and hot glue sticks

2-4 strands floral wire

optional
Materials
1

paper bag

paper grocery bag

normal kraft color, or could use white gift bag

1

piece

pink felt

or red, orange, etc. for the nose

1

container

craft paint

white, craft size

1

container

craft paint

black
Instructions
Remove the handles from the bag and set aside, you'll use them later.

Using a plate, trace the 'head' of the bunny and cut the bag. Leave the sides of it so it stays together and keep the bottom of the paper bag intact.

Cut out the first ear, using the left over bag piece, then use that to trace and cut out the second, third and fourth ears. I used two on each side of the bag, you could just use two attached to the front.

Paint your pieces (You could also use a white gift bag and be able to skip this step, or leave it in it's kraft paper color). Allow paint to dry.

Glue on your ears and the handle of the bag. This is where you may want to hot glue some floral wire onto the back of the ears, especially the front pieces so that they stick up straight.

Cut out and hot glue your felt nose and pinks of the ears onto the bunny.

Draw on the bunny face, then paint on the bunny face with black craft paint. Drawing it first helps to keep things aligned/how you want them.

Hot glue a pom onto the back of the bunny for a tail.
Hoppy Easter! xoxo, Claire