Jump to Recipe
Ya'll, why haven't I been making stovetop hot chocolate for ever?! If I had known it was this easy I might have been, because the taste of this recipe is outstanding. There's a smoothness to it that beats the powdered version. I wanted to make pink hot chocolate for Valentine's Day, but didn't have any of the pink hot chocolate powder. I do however have a significant food coloring collection, (from my cookier days... IFYKYK). That lead me to making hot cocoa the old-fashioned way, on the stove. And I am so glad I tried it! I'll share my exact recipe below so you can try it out yourself!
This would also be so much fun at a Galentine's Day party, do you celebrate Galentine's? I used to host a brunch or get together every year, and I think it's time to bring that tradition back! It's so much fun just to take a little time to celebrate the girlfriends in your life who have your back. Pair this with some heart-shaped waffles, fruit and and you have the cutest brunch set up all ready to go!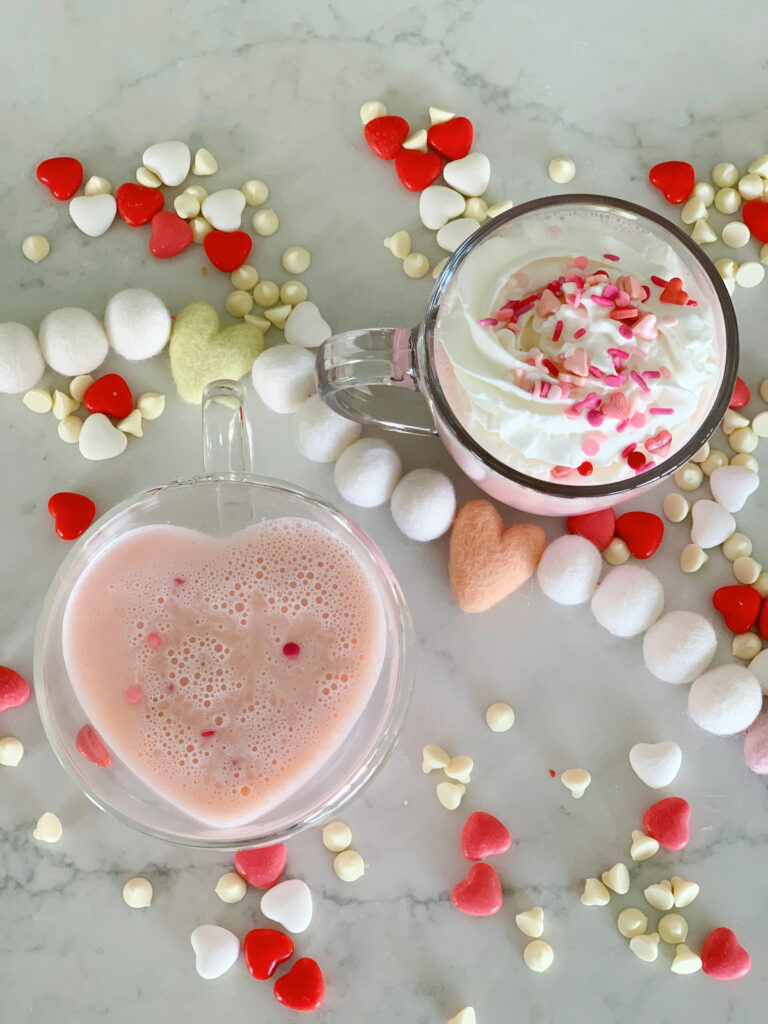 First things first, this is a white chocolate recipe. and it is super customizable. I like my hot cocoa pretty sweet, along with it being a white chocolate chip base it may be too sweet for you. You'll want to play with it a bit to achieve your desired sweetness. A few things you can do to adjust- cut the sugar out and scale back the chocolate chips. You can also use different types of milk to achieve your desired sweetness. My secret to great hot cocoa, whether I'm making it in my new favorite way, or, if I'm using a packet is to use Unsweetened Vanilla Almond Milk for at least half my milk. I don't know why, probably the vanilla, but the flavor is just better. You could try regular almond milk or stick to your favorite milk base. I also use almond milk in my shaken espresso recipe- another easy one you should try!
To make pink hot chocolate you need a few things. First, warm up your milk on the stove top on medium heat until it's simmering. Keep an eye on it, scaled milk is not something you're going for.
Add your white chocolate chips. This is the easiest piece to adjust if you want a sweeter or not as sweet hot chocolate. After you've chocolate chips have melted into the milk, add vanilla and sugar, if adding.
After you've combined all your ingredients and it's combined, add your food coloring. I use gel food coloring, and a little goes a long ways. This is where you can really customize what shade of pink hot chocolate you want. I used 8-10 drops to achieve the medium pink tone I was after. You could also use red food coloring, or make a really pale pink by using less.
If you're looking for a basic gel food coloring kit, I got this at Target to try instead of dipping into my royal icing food coloring stash. It worked really well and there are a few other colors in the pack that you can experiment with too! If you have red food coloring you could use a really really small drop or two and you'll get a pretty pink tone.
Pour into a clear mug so you can admire the colors, and then top with your topping of choice! Whipped cream and pretty sprinkles are always a hit, or you can never go wrong with marshmallows. Next time, I'm going to add some edible glitter I think.
Enjoy! Time to cuddle up with pink hot chocolate in some Valentine's pajamas while maybe decorating Valentine' cookies, or you can be the star of the Galentine's party with this simple recipe! 🙂
xoxo,
Claire
📖 Recipe
Pink Hot Chocolate
Using white chocolate chips and a stovetop make this delicious and adorable pink hot chocolate!
Ingredients
2

cups

milk

1%, 2% or skim

2

cups

unsweetened vanilla almond milk

1½

cups

white chocolate chips

use good chocolate- I use ghiradellis

8-10

drops

pink gel food coloring

1½

teaspoon

sugar

*optional

1

teaspoon

vanilla extract

*optional

to taste

mini mashmallows

*optional

to taste

whipped cream

*optional

pinch

sprinkles
Instructions
Simmer 4 cups on milk on stovetop over low-medium heat. You can use whatever milk you want, or half this recipe for a smaller serving.

Add white chocolate chips to sauce pan and stir while they melt

Once melted, add vanilla and sugar, if desired.

Add gel pink food coloring to desired share. I used 8-10 drops. Stir to combine.

Pour into mug and serve with whipped cream, sprinkles, marshmallows or desired topping of choice.
Notes
To make the recipe sweeter use more white chocolate chips, or you can try different milks to achieve the desired flavor. 
Nutrition